Over the course of our 30 years in business we have worked on tons of mudrooms. Some were additions and some were renovations of existing space. There are endless possibilities that we explore with potential clients, but time and again there are several "must-haves" that we nearly always incorporate into a new mudroom.
Durable Flooring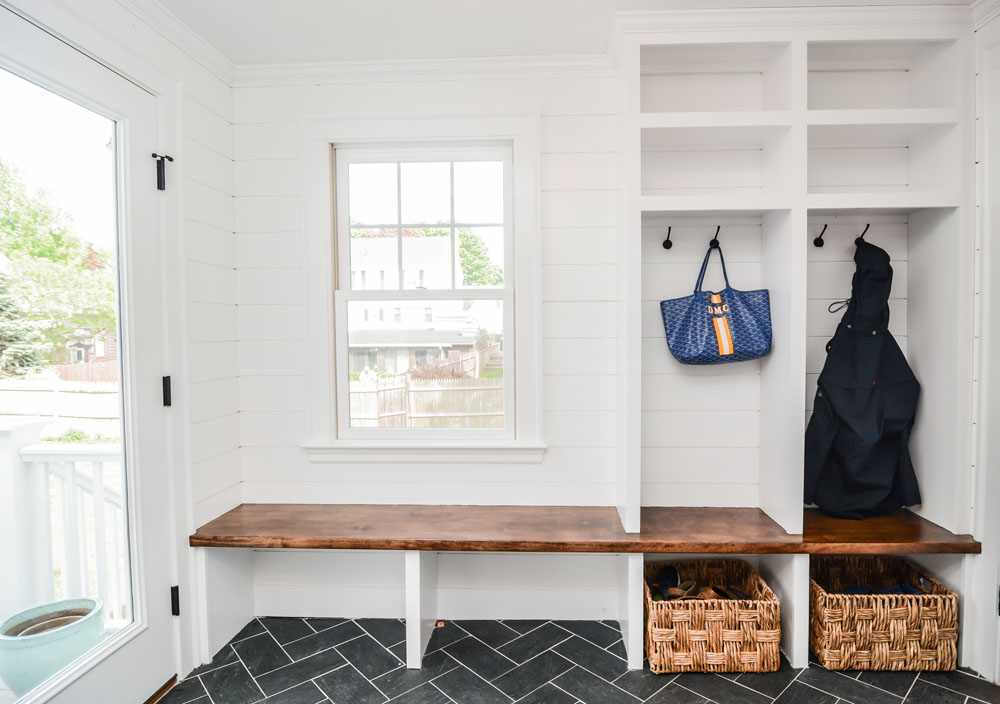 "Mud" is in the title and it's what will be all over the floor on rainy or snowy days.  We recommend tile flooring for easy clean up. Even better, a darker tile to hide the dirt so you need to clean a little less frequently. Today's tile is no longer boring 12" x 12" squares. Instead there are many different sizes including "wood-look" plank-style tiles.
Our clients are also choosing more interesting tile patterns as well. Above, you'll see a dark ceramic tile we laid in a striking herringbone pattern for a recent client.
It's All About 'Cubbies'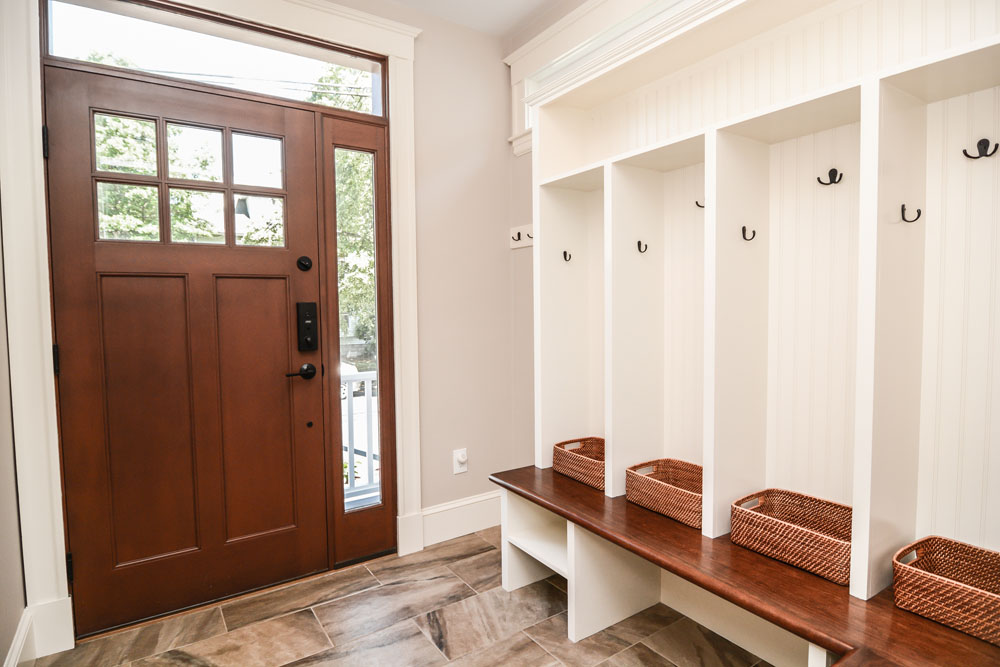 Individual cubbies for every member of the family are all the rage these days. We don't know if it's the Pinterest-effect or if people are just looking for better ways to keep their families organized, but cubbies WORK! Upper hooks for coats, lower hooks for backpacks or for the younger family members who can't quite reach the higher level.
We're finding many clients opting for mudrooms similar to the one remodeled above. The key elements:
Hooks at multiple levels
Space above the cubby for additional storage or off-season items
A spot for baskets for mittens, scarves and hats
A bench to sit on
Open space below the bench for shoes
Bench Seating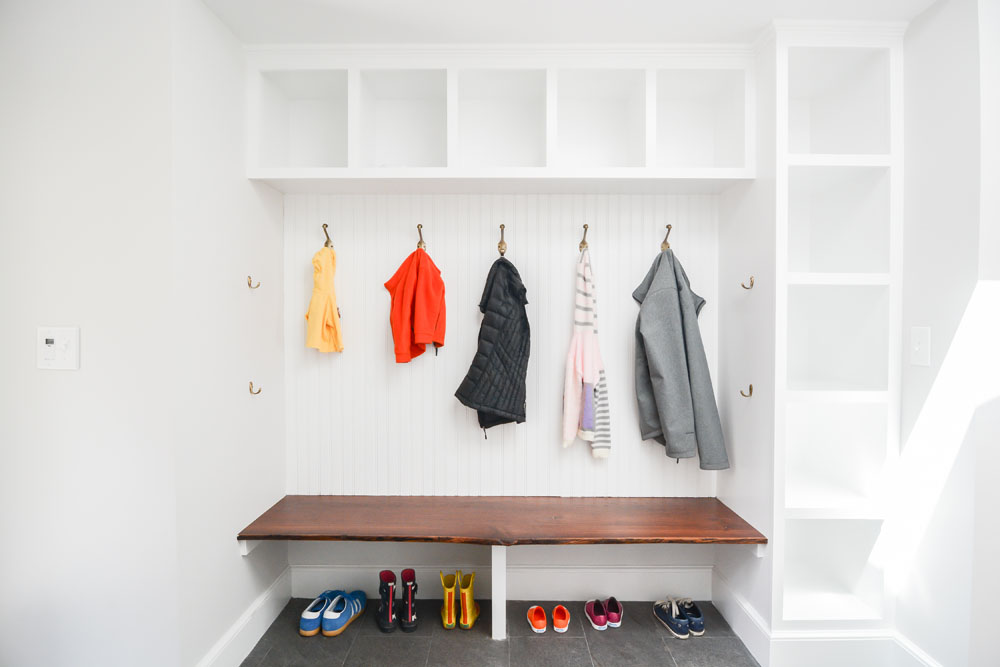 Speaking of benches, they are a must have for today's mudrooms. After all, you'll need a place to sit and put your shoes on or help the little ones with their boots. Often, we build these out of a darker, contrasting hardwood for durability. We find this pairs nicely with the lighter painted cabinetry. Many of our clients choose to incorporate beadboard paneling as an accent detail in their design for a classic look.
Below, we love the modern elements added to this classic mudroom. The homeowners chose to update their mudroom design by adding modern wire black baskets that match the black door. You'll also notice that their bench is extra thick – making it a striking focal point – while the support structure underneath the bench is cut on the diagonal. Love it!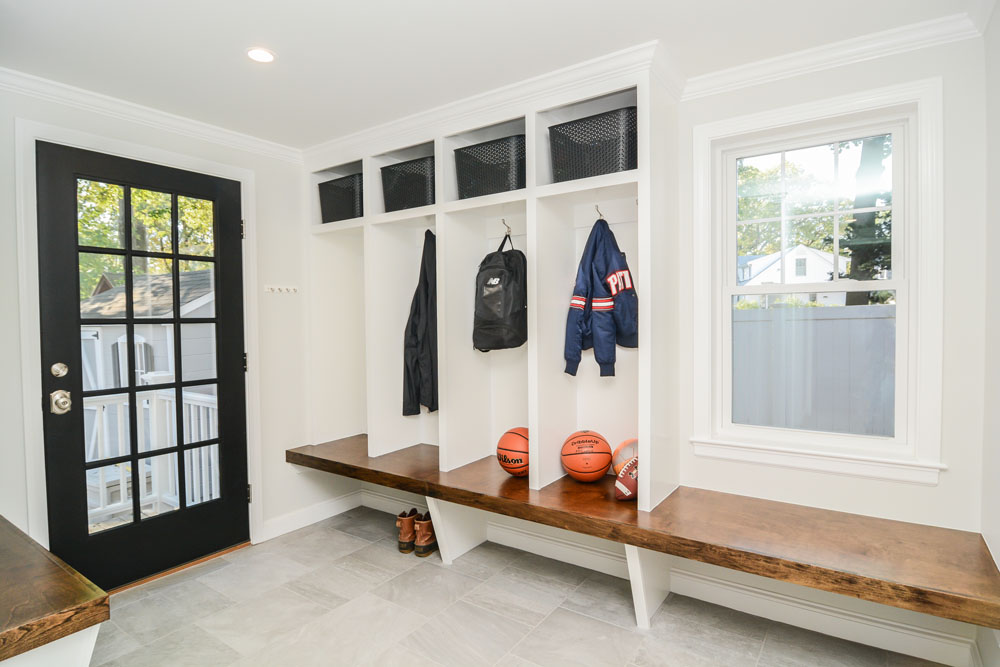 Smaller Spaces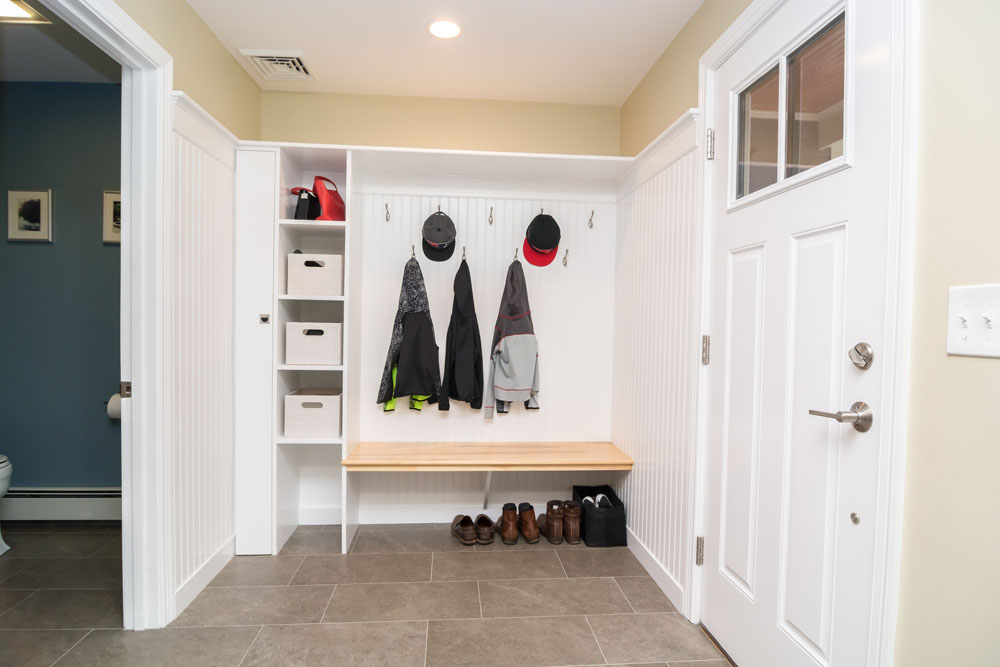 Many of our area's homes don't have a ton of extra space to dedicate to an entire mud "room," but there are clever ways to find space. We remodeled the above home from top to bottom, but there wasn't a ton of extra space. Instead, we lined one wall of the entry with smaller cubbies, a bench and hooks. The beadboard backing and trim details define the space so it feels like a separate room rather than the entry way.
Below, these homeowners had NO space to incorporate a mudroom so we had to think out-of-the-box. The solution? We "stole" space from the garage. We bumped out the kitchen and expanded the living space into the garage to create the mudroom. The grey-blue custom cabinets provide extra storage for coats and panty items. The tile floor defines the "mudroom" area.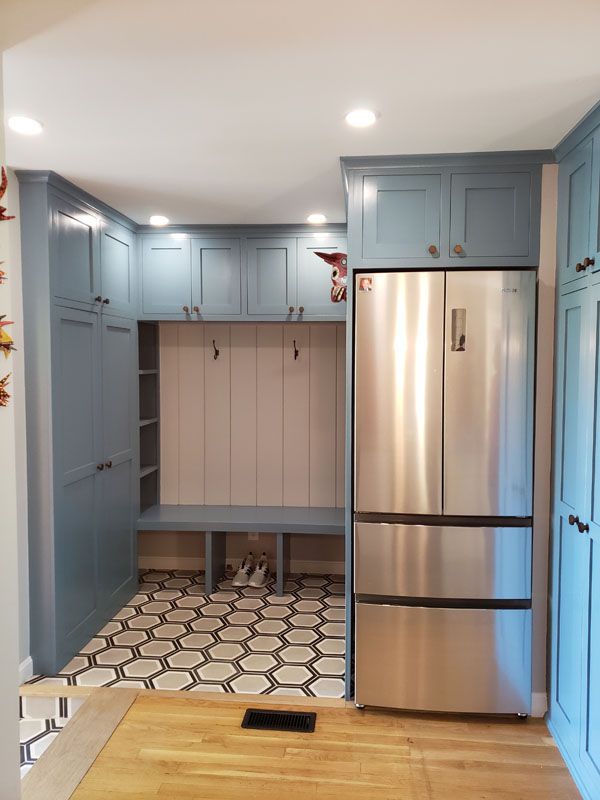 Drawers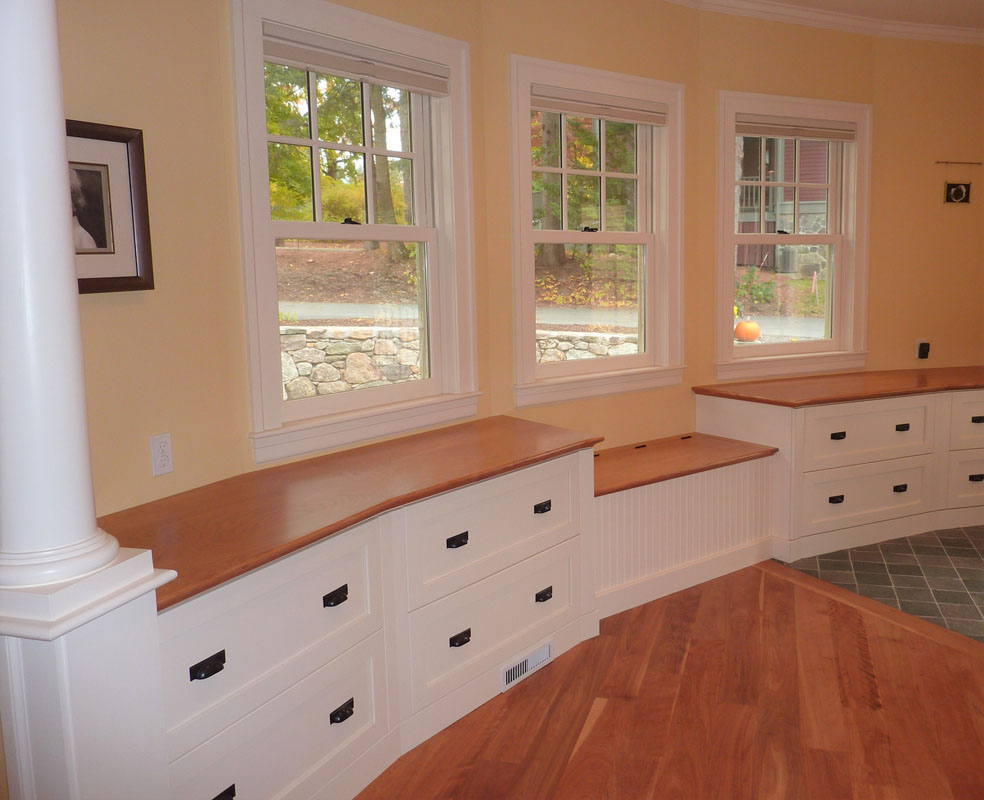 The photo above illustrates that a mudroom doesn't have to include cubbies – or be square for that matter. The homeowner's entry way is unique in that it is curved – a beautiful architectural element that welcomes guests to their home. Cubbies often end up still looking messy once the kids pile up their jackets, hats, school supplies and sports equipment (what hooks? Why would they use the hooks when there's a perfectly good floor to throw this stuff on??). This homeowner chose custom millwork drawers to fill their entry and keep everything neat and tidy. A bench at a lower height than the drawers was also incorporated, but the top lifts up for additional storage. No messy pile of shoes and boots in this mudroom!