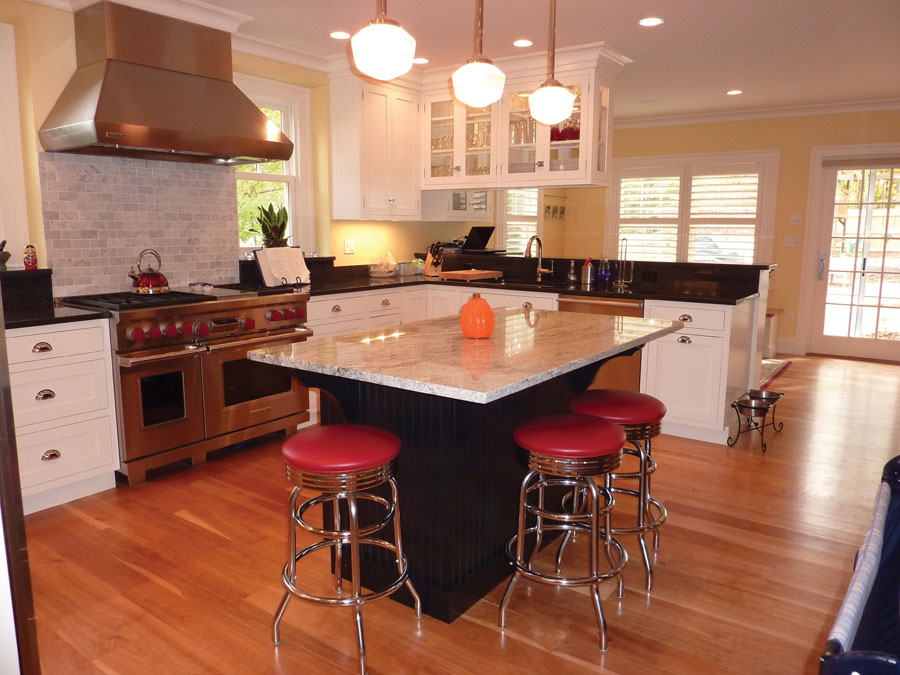 When it comes to a sizable remodeling project, homeowners can take one of two basic paths:
1) Hire an architect to draw up plans and then a general contractor to execute on those plans, or
2) hire a design/build contractor to handle it all.
At Custom, the design/build philosophy provides the foundation for everything we do. Based on our 26 years of experience, we believe it is by far the best way to approach our craft — a conclusion supported by our sky-high client retention rates.
Let's take a closer look at what design/build is and why it's good for our clients. Defining the Concept The Design-Build Institute of America defines design/build as follows:
"Design-build is a method of project delivery in which one entity – the design-build team – works under a single contract with the proj-ect owner to provide design and construction services. One entity, one contract, one unified flow of work from initial concept through completion – thereby re-integrating the roles of designer and constructor. Design-build is an alternative to the traditional design-bid-build project delivery method. Under the latter approach, design and construction services are split into separate entities, separate contracts, separate work."
When you work with Custom, you'll begin recognizing the advantages of design/build early in our relationship. We have the experience to visit your home, learn about your goals and then give you a rough idea of what the project will involve, how much it will cost and how long it will take. Since architects don't do the construction, they can't provide that level of detail.
Contractors who don't adhere to the design/ build philosophy might charge several thousand dollars to develop detailed project specifications. Once those are complete, you'll find out how much the project will cost. Depending on the terms of the retainer, you might not even own the rights to those plans — a big drawback if you decide to work with another contractor.
If you instead hire an architect to draw up plans, you'll likely be paying a premium for design. Furthermore, there's an important risk: As you start going to contractors with those
plans, you may learn that the project will cost much more than you had anticipated. In which case, the plans for which you've paid thousands of dollars — and that took months to complete — are rendered useless.
At Custom, we like to avoid surprises. We communicate with you regularly during the design process, which helps ensure the plans meet your goals. And because we handle the construction, we can provide realistic figures for the budget. The bottom line: We won't enter into a design/build agreement unless we're sure we can deliver what you want within your desired budget range and timeframe.
Rounding out the Story
A few other key features of our design/build approach:
• Collaboration: We partner with the homeowner every step of the way, from the concept stage through construction. This helps to create living areas that reflect your personality, values and budget.
• Single-source accountability: We take responsibility for the design, construction and satisfactory completion of your project. If you have any questions or concerns about the budget, project deadlines or anything else, you can come right to us for answers.
• Time savings: Our design and construction specialists work closely together to complete their tasks concurrently, which usually compresses the project timeline.
• Simplification: We coordinate the efforts of all parties involved lead carpenters, a designer, various trade subcontractors, etc. — so you don't have to.
Design/build guides every project we do at Custom, from rebuilding a small porch to completing a two-story addition. Don't make the mistake of putting the cart before the horse for your remodeling project. Rather than first going to an architect for design plans on an addition or a cabinet showroom on a kitchen project, start with Custom or another true design/build contractor.
Want to learn more about this philosophy — and why it leads to more-successful remodeling projects? Call us today at 781-648-2835.