The Greater Boston residential real estate market is still going strong. That's great news if you own a home (perhaps less so if you don't own but are looking to buy).
Now suppose you own but think you want something bigger, more updated or simply different. Your best option might be to sell — especially if you're eyeing a less pricey area of the state or country.
However, if you like your community and would prefer not to uproot your family, remaining in your current house might make more sense. After all, rising home values means more home equity, which means you'll have more money to devote to a remodeling project.
If you're more inclined to stay put, now is a very good time to invest in a renovation.
New 'Cost vs. Value Report' Is Out
Remodeling magazine releases an annual "Cost vs. Value Report," which this year "compares average cost for 21 popular remodeling projects in 149 markets with the value those projects retain at resale in 100 U.S. markets."
The Greater Boston edition of the 2018 report shows that a wide range of remodeling projects deliver an impressive return on investment. You can see a few of the results in the table below.
This data goes to show that beyond enhancing your enjoyment of your home, a renovation will allow you to recoup a good chunk of the cost when you eventually do sell. That combination is a big part of the reason why remodeling firms are in high demand these days. In fact, many firms — particularly those without much office staff — might take several weeks just to return your call. And even if they can take on your project, they might not be able to start for many months.
Our advice? If you're even thinking about a remodeling project, start reaching out to prospective remodeling firms sooner rather than later.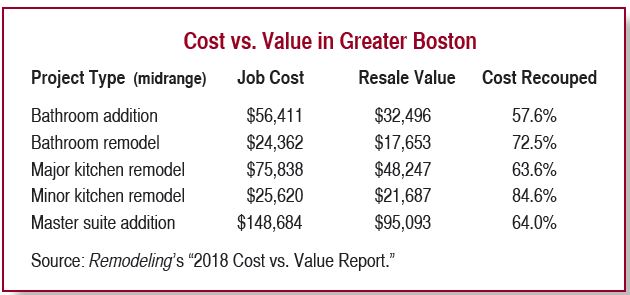 Custom Contracting, Inc.
1267A Massachusetts Ave.
Arlington, MA 02476
Phone: 781-648-2835
Fax: 781-648-0907
Email: cci@custom-contracting.com