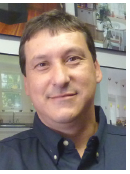 We're pleased to announce that general manager Scott Blain recently achieved prestigious Master Certified Remodeler (MCR) status from the National Association of the Remodeling Industry (NARI). The designation signifies the remodeling contractor's superior knowledge, dedication to the industry and community involvement.
"I appreciate the hard work NARI does on behalf of our industry and take pride in receiving this designation, Blain said upon receiving his MCR.
Custom is the only remodeling firm in the Eastern Massachusetts NARI chapter (and one of the few nationwide) with two MCRs on staff, as president Bill Farnsworth also holds the designation.