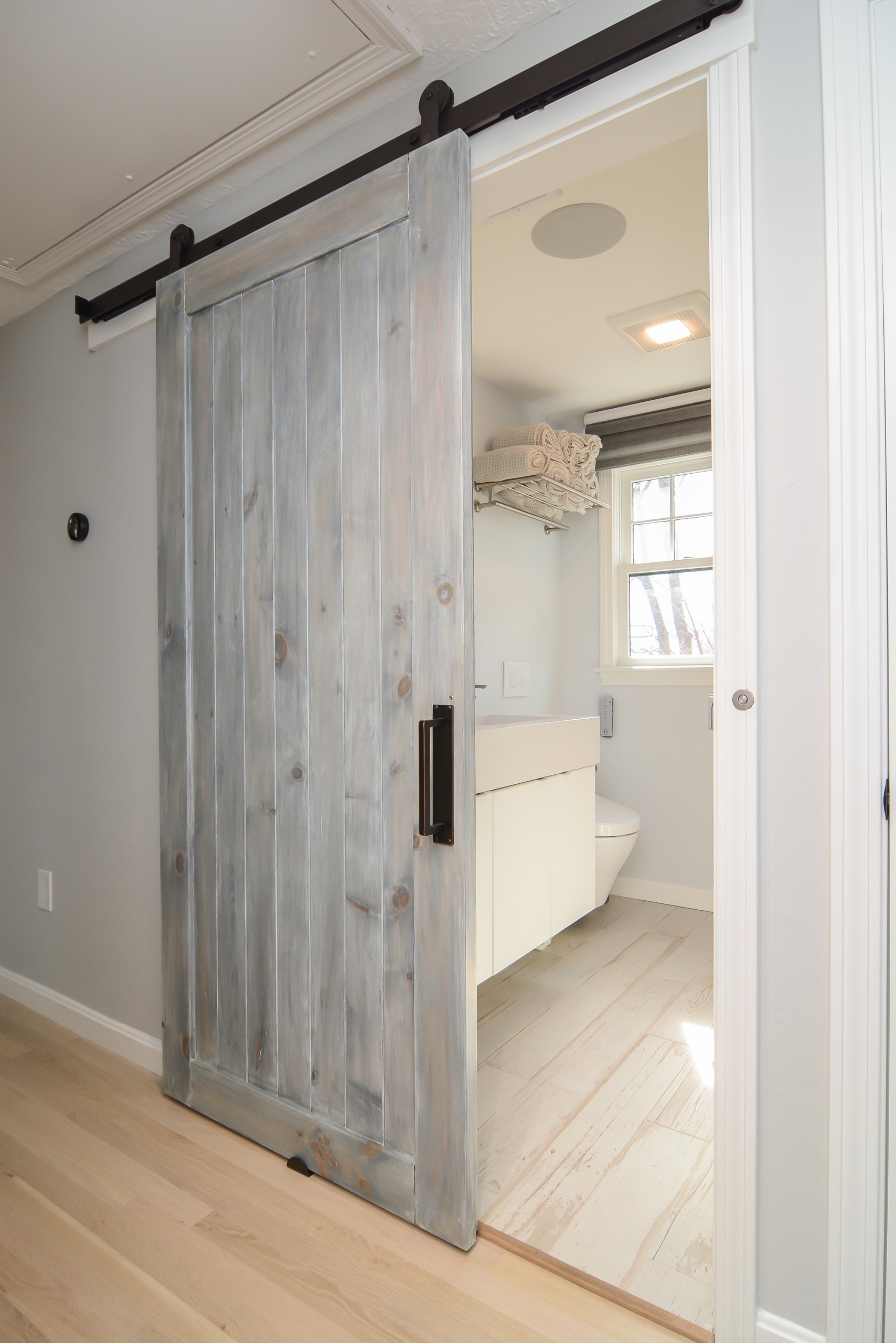 Despite what you may see on HGTV or hear from companies like Bath Fitter, you can't complete a major bathroom renovation in a week. If you're going to do it right — which is how we do it at Custom — it takes a lot longer.
Getting Started
To kick things off, president Bill Farnsworth or general manager Scott Blain meets with you to discuss what you have in mind and nail down general project parameters. We then give you a rough preliminary estimate so you can decide if Custom is a good fit price-wise.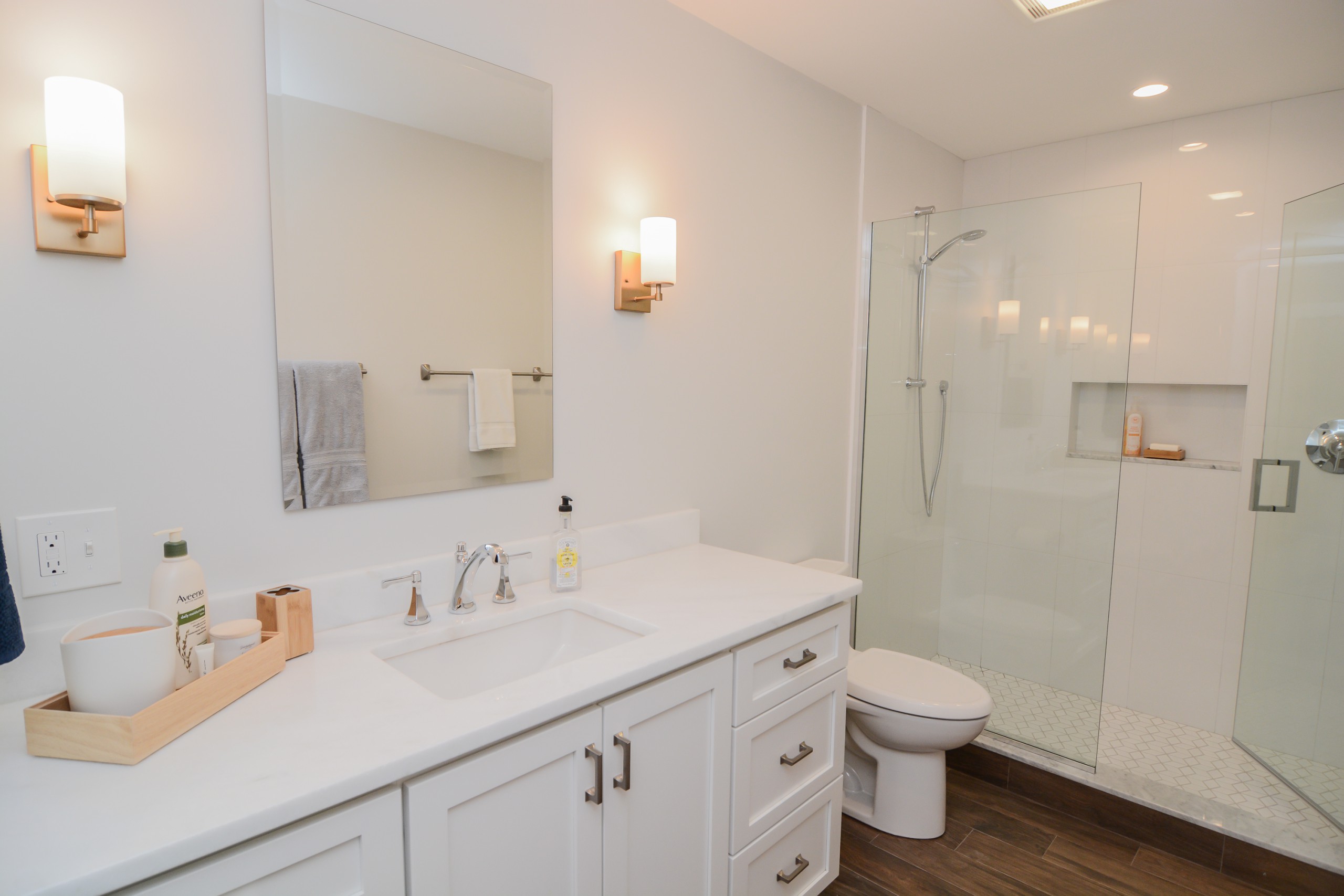 Creating a Floor Plan
Following approval of the preliminary estimate, Bill or Scott works on a floor plan that shows the dimensions of each piece and where it is situated. Building codes and clearances usually dictate what's possible with a bathroom renovation. If there's not enough space to move a tub or vanity, for instance, then you simply can't move it.

Product Selection
Our team, starting with project coordinator Michael Daniell, works with you to choose the right products to fit your floor plan. Michael serves as the liaison between you and our trusted vendors, like F.W. Webb and Roma Tile. Custom Contracting designer Nikki DeFelice is also available to help out, especially in selecting cabinets and vanities. Keep in mind that product selection for the bathroom can be a real challenge. While most bathrooms are relatively small, there are a lot of products — plumbing and light fixtures, tiles, cabinetry, vanity. Making all those selections can take awhile, as can delivery (e.g. some higher-end tubs can take up to 12 weeks to arrive).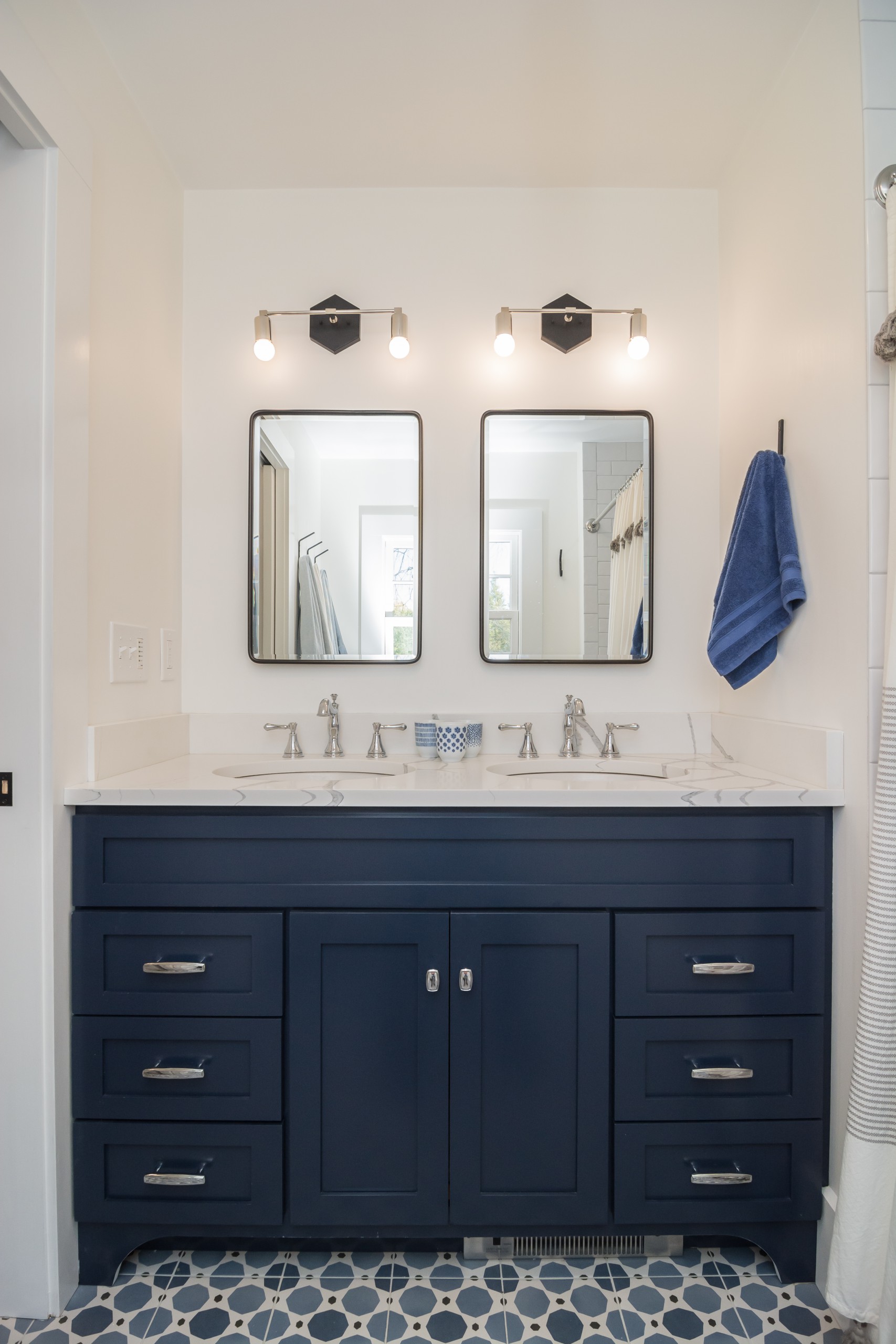 Preparing the Specification & Production Schedule
Once you're certain (or close to it) about working with Custom, we prepare a project specification. This detailed document provides step by step instructions on how we'll complete your project. It includes information on total budget, payment schedule, timetable and more.
A note about timetable: In building out a master production schedule, we need to account for factors such as:
• Your scheduling preferences
• The availability of our lead carpenters and professional trade subcontractors, who may be working on other projects (see below)
• Product selection and delivery
• Inspections by your city/town
Managing the Production Team
The production team includes a lot of people — lead carpenter, demo crew, tile installer, plumber, electrician, plasterers, painter, etc. Each of their jobs has varying levels of complexity. Tiling a shower, for example, can easily take five work days, depending on the complexity of the pattern. Or, getting the plumbing or electricity up to code in an older home can be very time-consuming.
These workers' various tasks must be staggered and done in a particular order. So scheduling can get tricky, and there are sometimes gaps between, say, when the floor tile is put in and the tub is installed. Factoring in inspections can further complicate things.
A Final Thought
We hope this article has given you a better understanding of everything that goes into a bathroom renovation. Please call us at 781-648-2835 to learn more.