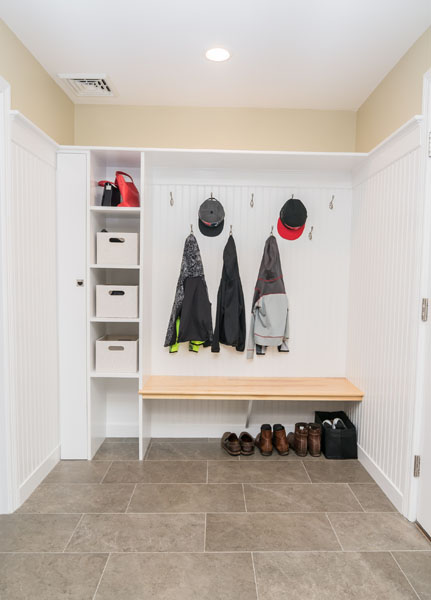 New Englanders are known for being practical, so it's fitting that mudrooms seem to be growing in popularity around here.
We don't have any hard statistics to back up this statement. But at Custom, we're seeing a definite bump in inquiries from homeowners who value the functionality of a well-built mudroom.
If your home is on the smaller side or you're just dying for a place to store your kids' athletic (esp. hockey) equipment, backpacks and shoes, a mudroom can be a godsend. Some homeowners have theirs built into the front entryway, while others prefer a side or rear entrance. Wherever you place it, a mudroom is bound to become your family's primary entry point into the home.
New or Retrofit?
About half the mudrooms we work on are part of larger additions, while the others entail retrofitting a pre-existing space.
Homeowners putting in a new mudroom generally allot a fair amount of space — upwards of 120 square feet. That kind of space gives you lots of options. You might add a bench, shelving and/or cubicles, for instance.
Creating a mudroom in a pre-existing space, such as a front porch, can present certain challenges. In these cases, you'll typically have less square footage to work with. Once you account for the space you need for a door to swing open, you might face some tough choices about what features you have room to include.
With that said, Custom has plenty of experience building mudrooms and can get creative in coming up with options. President Bill Farnsworth or general manager Scott Blain will start the process of designing the space. If you want to incorporate cabinetry to meet your storage needs, our designer Nikki DeFelice might then get involved.
Have questions about adding a mudroom into your home? Contact Custom today.