For an experienced general contractor like Custom, renovating a large kitchen is simple. A small kitchen, on the other hand, introduces all kinds of challenges that can be difficult — and rewarding — to solve.
Many of the communities in which we work have older homes. Back in the 1950s (and earlier), the kitchen was commonly the room where one person toiled in preparing meals. It wasn't a place where you would hang out, do work or entertain.
Today, homeowners are doing all of these things and more in the kitchen. As a result, we're often hired for kitchen expansions or to make the most of a kitchen's existing space. Those latter projects (like the one featured in this issue's Client Spotlight) are where we really shine.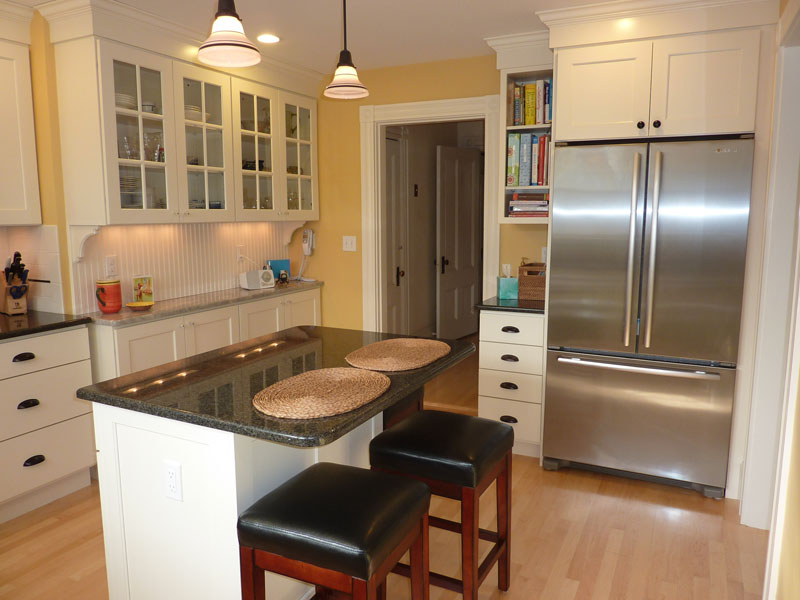 We've Seen It All
When we check out a small kitchen for the first time, we can see what the challenges are right away. For example, the space is too crowded, appliances are buried in odd spaces or there are too many doorways and not enough cabinets. Over our 28 years in business, we've seen it all.
Once we get a good look at the kitchen and the underlying mechanicals and plumbing, we explore what the homeowners like and don't like about the space — and what goals they want to meet with the renovation. Very quickly, we can provide a sense of what's possible along with ballpark pricing.
From there, it's a matter of drawing up a floor plan. One important thing to keep in mind with small-kitchen renovations is clearances. Local building codes have requirements regarding doorway width, appliance heights, etc. Then there are "common-sense" standards, such as having enough space between an island and cabinetry to allow for comfortable pass-throughs.
Following approval of the floor plan, our designer, Nikki DeFelice, steps in. One of her strengths is working with small kitchens, and she loves coming up with creative solutions to meet homeowner goals. Among the tricks of the trade she's picked up over the years:
Corner sinks: These are a great space-saver and can open up room for appliances.
Cabinets: We're one of the very few full-service remodeling firms that designs, supplies and installs our own cabinet lines as a direct cabinet dealer.
Closets: Nikki loves squeezing in slim closets to store mops, brooms and cleaning supplies.
Appliances: If space is really tight, a smaller refrigerator, stove and/or dishwasher might make sense.
Cause for Optimism
As creative as we can be, remodeling a small kitchen usually requires some sacrifices. No, you might not be able to fit in that island or Sub-Zero refrigerator you've been eyeing. But if you work with an expert design/build home remodeler like Custom, it's possible to achieve more of your goals than you might realize.
Thinking about renovating your small kitchen? Contact us first to discover all that your kitchen can be.