Sometimes an interior renovation isn't enough – you simply need more space! That was the case with our clients in Arlington. They decided to renovate their kitchen, but wanted to add more space and create an open floor plan. The solution? Expand the home with a bump-out addition to give them all the space they need to enjoy their home.
The home had been expanded previously, but the aging addition included a back porch and staircase which didn't provide usable space for a kitchen. Instead, we needed to remove the back porch to make way for the expansion.
Once we had worked with the homeowners to discover what their project goals were and how we could best achieve their vision, it was time for a PLAN! The new 12' by 7' addition significantly expands the kitchen. The entryway between the kitchen and dining room was widened to create a more open floor plan for modern living.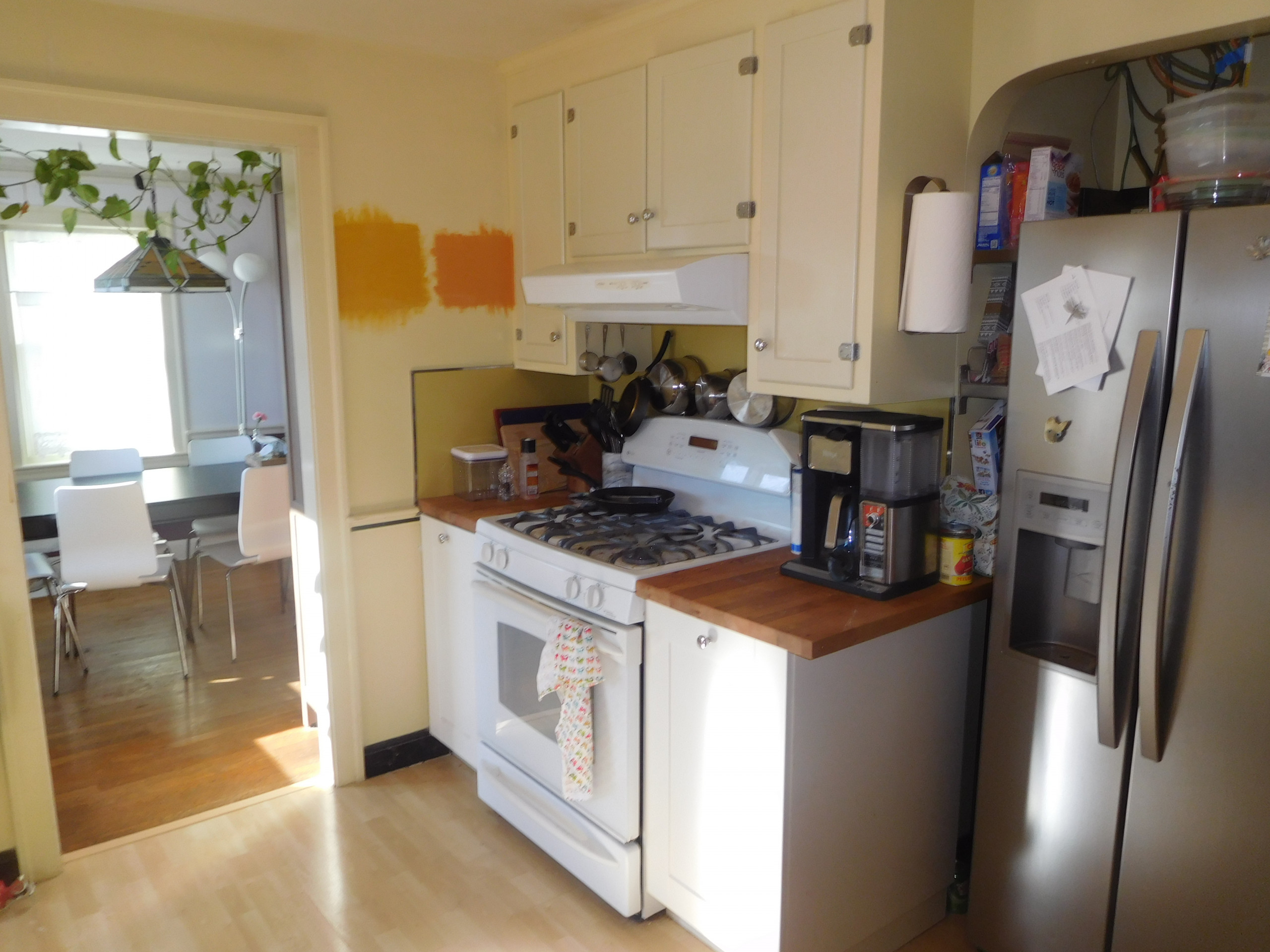 Once the plan was in place and the homeowners were on board, work commenced and moved swiftly. After removing the back porch, we:
Built engineered concrete support footings / piers to support the new structure and ensure it is solid and secure.
Framed the new addition structure and added an access door to a new lower rough storage shed under the new kitchen.
Added a structural beam to support the roof load above the new addition. As a result, we created a lofted ceiling which makes the room feel very open and roomy.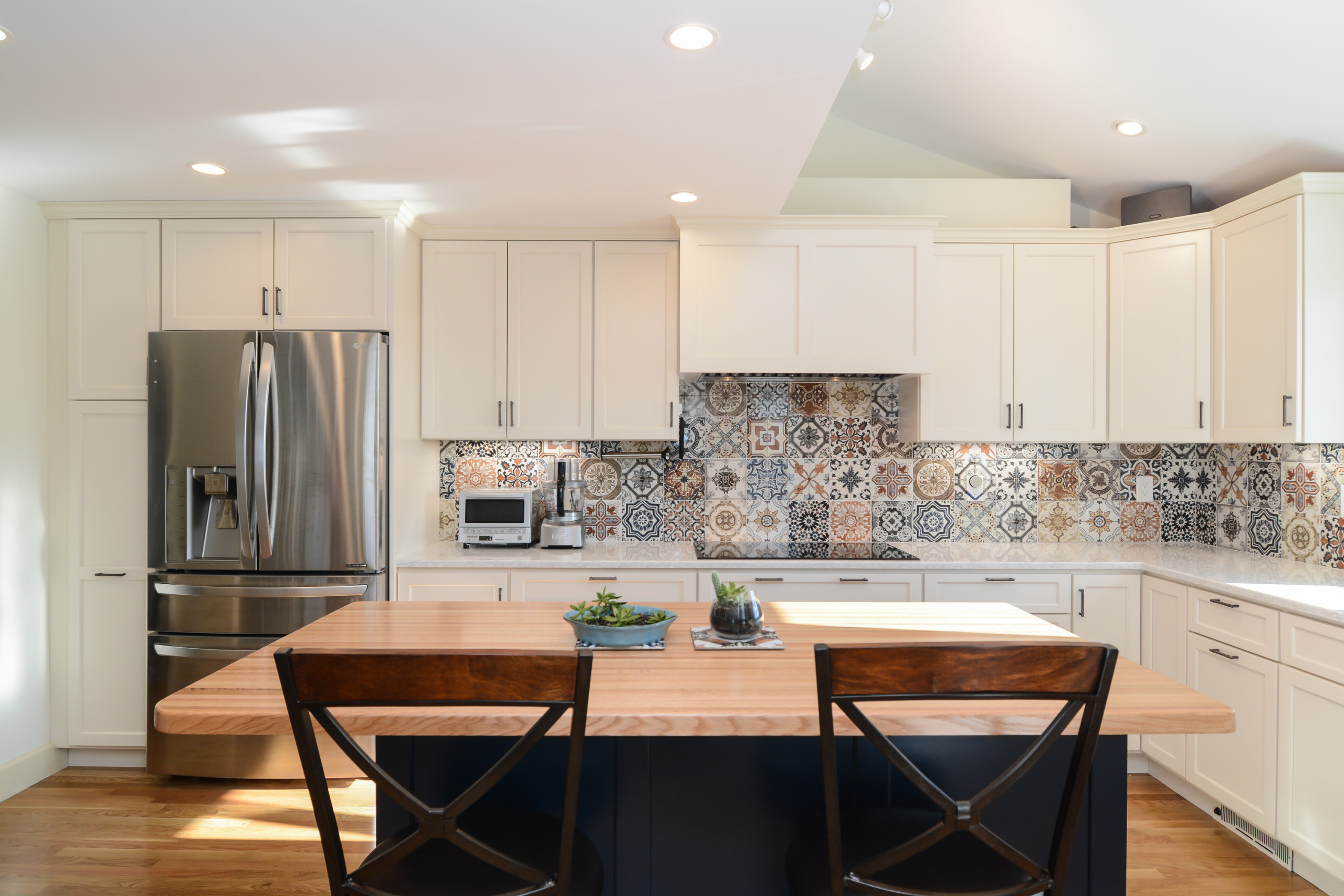 Once the structure was completed it was time to move on to finishing the kitchen. The homeowners chose gorgeous cabinets from Bertch finished in complimentary colors. The main run of cabinets are Oyster – a creamy color that pairs well with the Cobalt blue island.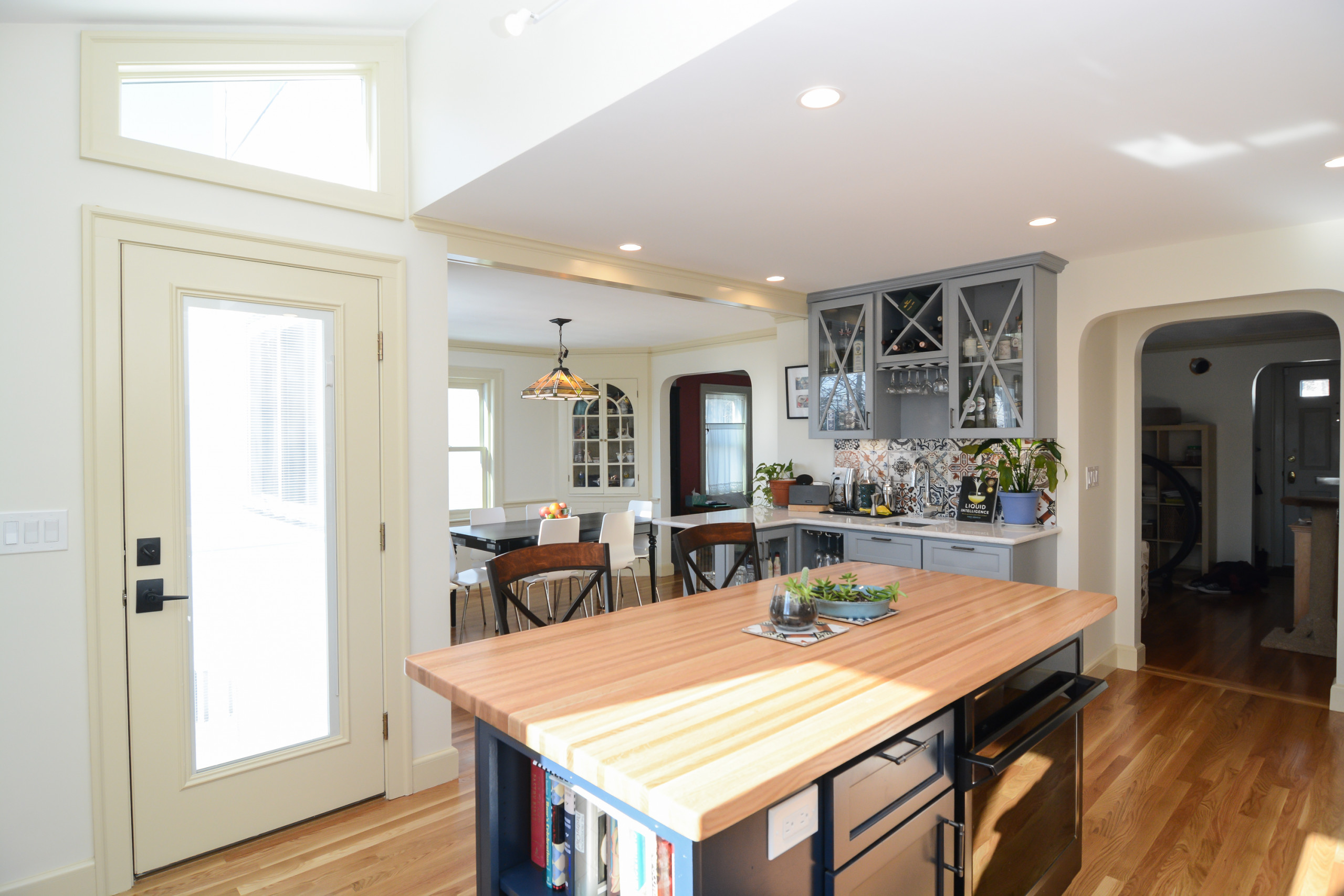 It's the finish details that really make this kitchen a show stopper. Friends and family first notice the stunning backsplash tile from Fitzgerald Tile which showcases the homeowner's sense of fun and style. The main countertops are made of a durable quartz from Stone Surfaces – with the exception of the island which is topped with butcher block.
Finally, one of our favorite parts of this kitchen design is the wet bar. We love the coordinating cabinet color, the glass door fronts with geometric wood details. These homeowners are ready for a relaxing drink at the end of the day but can just as easily host a gathering in their beautiful new space!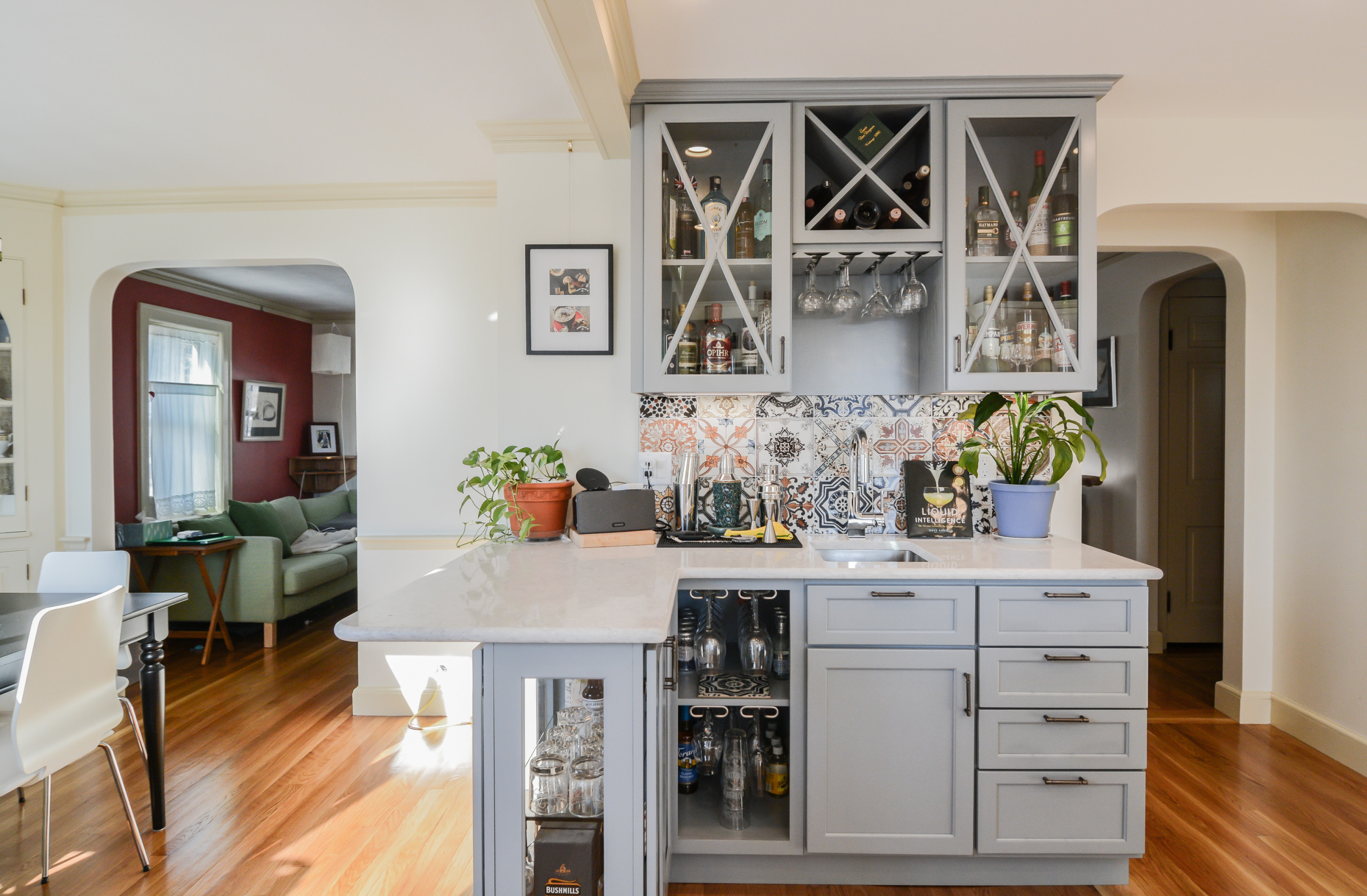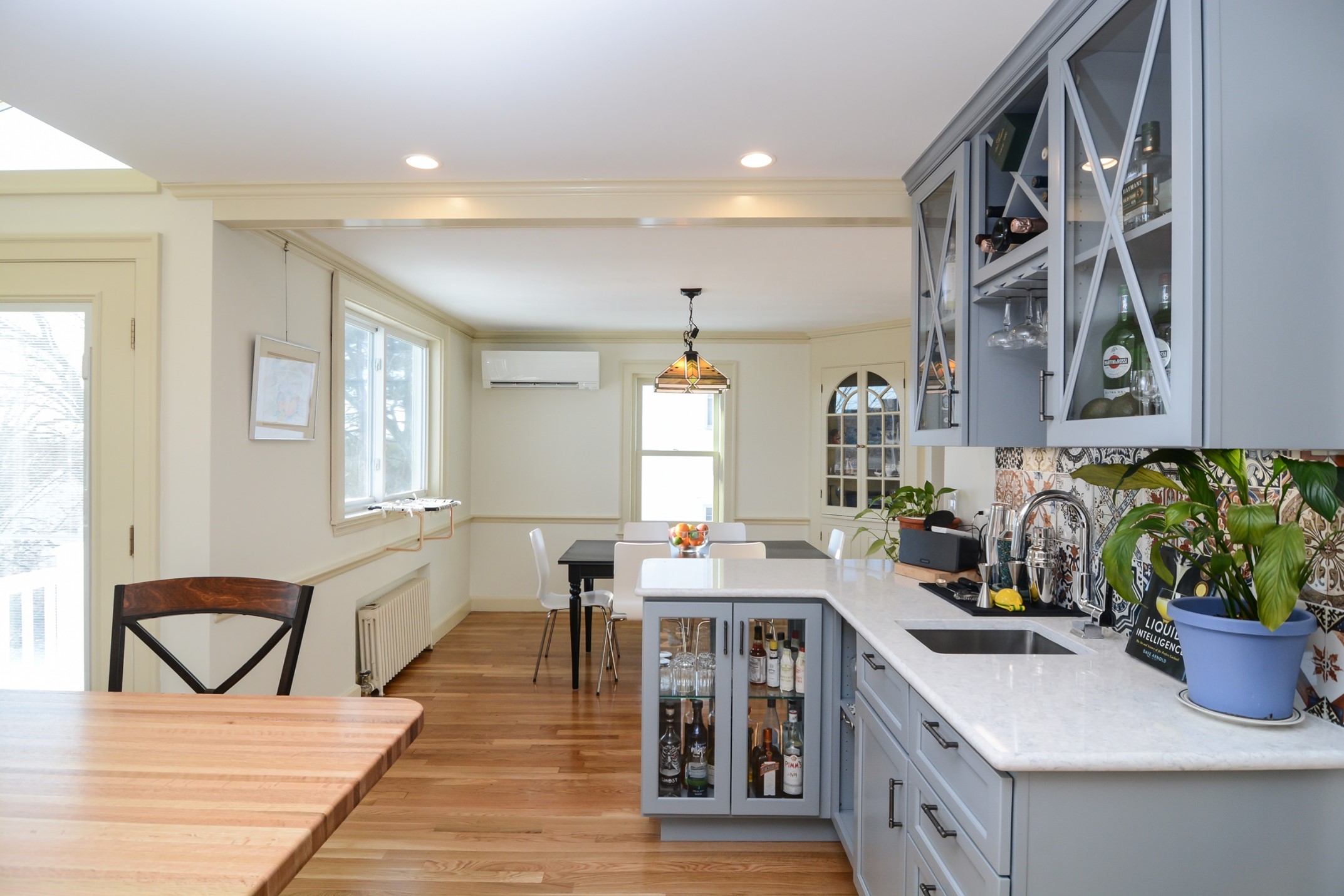 Click here to see more images from this project!