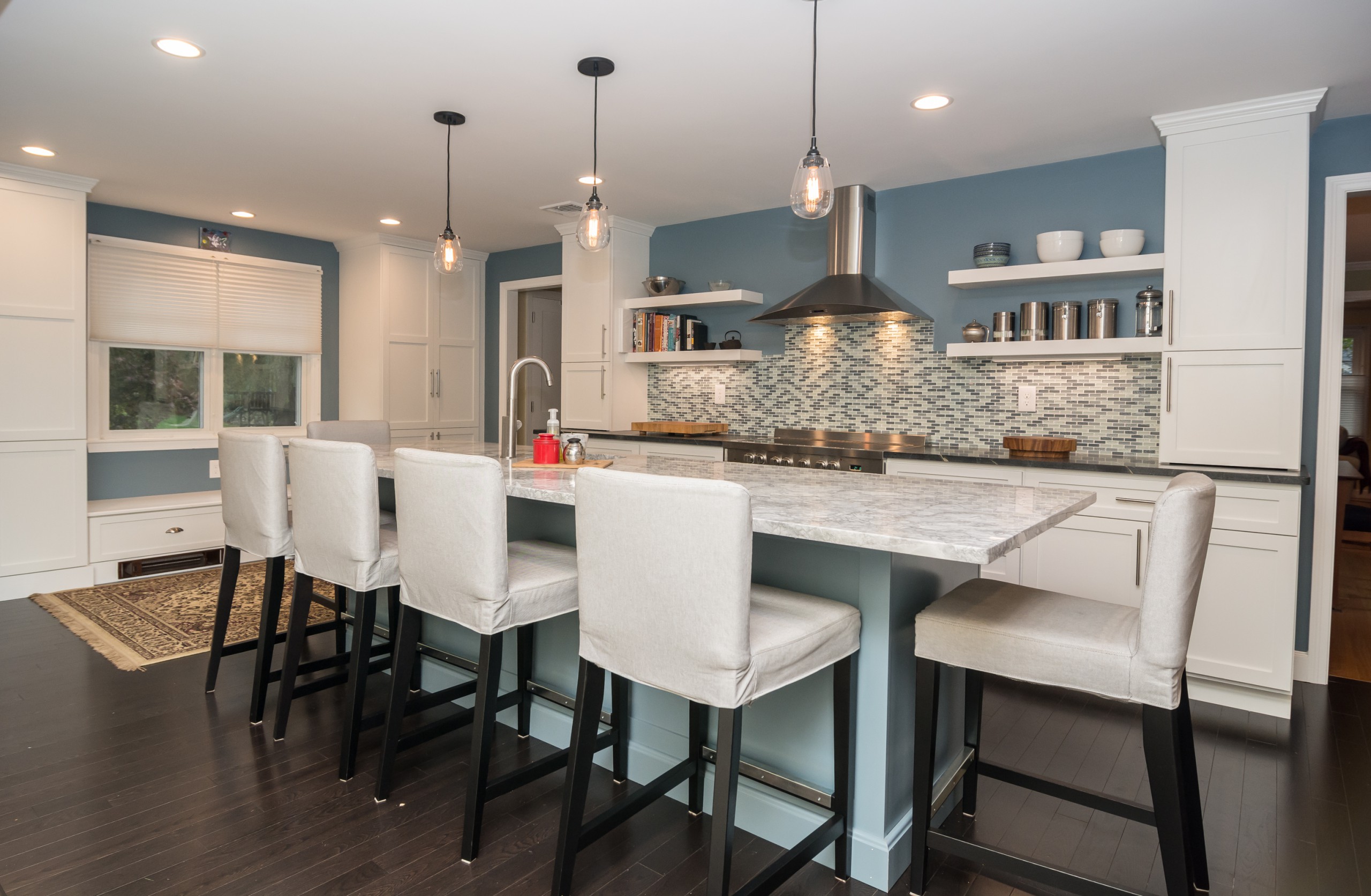 (The above large kitchen remodel includes an oversized island with plenty of seating for the whole family)
Over the past 29 years, Custom has worked on dozens of kitchen remodeling projects. Lately, these projects seem to be getting bigger and bigger.
Given the age of the housing stock in Arlington and surrounding communities, many local homeowners are dealing with kitchens that are undersized and/or outdated. This situation leads some to look into moving elsewhere in their town. As we've covered multiple times before, though, the realities of our real estate market can make moving financially infeasible.
Consequently, homeowners often turn to us to update or open up their kitchen space. What's changed over the past year or so has been the size of these projects.
'Open' Is In
Gone are the days when most homeowners wanted closed-off dining and living rooms. On our typical kitchen project, we're now taking down walls to create larger open spaces that incorporate the kitchen as well as eating and living spaces.
Achieving a truly oversized kitchen almost always entails expanding the home's footprint. The new space is usually necessary to realize the open concept described above and to accommodate additions like a new entry, mudroom or powder room and/or facilitating access to outdoor space in the form of a deck or porch.
Large kitchen projects also often involve installing windows and doors, thus bringing in more natural light without having to compromise on cabinetry, countertops or appliances. Having more space in the kitchen also allows for a bigger island, refrigerator, dishwasher and oven — and even multiple appliances.
A Few Things to Ponder
What are some of the key factors to consider in exploring the possibility of an oversized kitchen? Obviously, budget is first on the list. These types of projects are a significant undertaking, and the cost far exceeds that of a basic kitchen renovation.
For example, removing walls, installing beams and shoring up/repairing the existing structure may be required in order to achieve the open concept. There may also be a great deal of plumbing, electrical and HVAC work involved. The cost of purchasing cabinetry, countertops and appliances to fill the expanded space can escalate quite a bit as well. If you're considering an addition, you also need to make sure you're in compliance with zoning and setback requirements in your community.
Lastly, depending on how extensive the work, you may be better off moving out of the home temporarily — a topic we covered in our June 2018 newsletter.
Up to the Challenge
One of the first steps in creating an oversized kitchen is to consult with a qualified remodeling firm on the project. At Custom, we can offer advice on what kinds of goals are realistic and what structural, zoning and setback requirements might represent impediments.
Should you decide to work with us, our trusted network of trade subcontractors gives us the capability to handle all aspects of the project, while our lead carpenter system will help ensure everything runs smoothly. We enjoy the challenges that come with a major kitchen project. Please call us today at 781-648-2835 to get started.