Thinking about a kitchen remodeling project? It's never too early to choose the appliances.
The thing is, choosing kitchen appliances has never been more challenging because there have never been more options to consider. Today's appliances come in a wider range of sizes, styles and colors, with all sorts of variations in terms of installation requirements (e.g. projections and clearances).
Nevertheless, dragging your feet when making appliance selections can push out your project timeline. After all, your kitchen design can't be completed until you've confirmed all of the appliances to be installed.
Now that we've given you that warning, let's take a look at something more fun: trends in kitchen appliances. Here's a quick rundown of five appliances that are gaining traction with homeowners: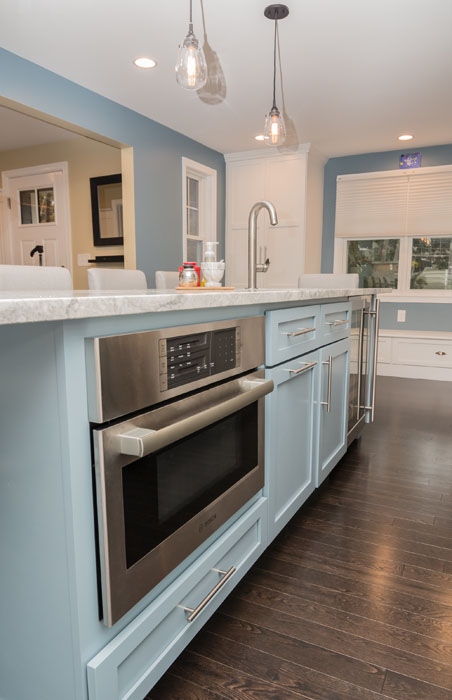 1) Beverage and Wine Refrigerators
Beverage and wine refrigerators can be freestanding or, in order to save space, installed under-counter. Beverage fridges generally hold 60 to 150 cans and are designed to run a bit cooler than wine refrigerators. Typical wine refrigerators hold from under 10 to 100+ bottles and are designed to maintain a certain amount of humidity (which is conducive to wine storage). Side-by-side beverage/wine refrigerators are also available.
2) Coffee Stations
For true lovers of hot beverages, what could be better than a dedicated coffee station? It's the perfect place to prepare coffee, espresso and tea — and to store the accompanying glassware, cups, silverware and dishes. Round out the area with a built-in espresso maker or even a wine refrigerator.
3) Microwave Drawers
Microwave drawers are still relatively new to the market, and most stores don't have a wide selection. But if you find one you like, you can have it installed under-counter or under a wall oven. It's a clever way to save counter space and includes all the features found in a traditional microwave.
4) Steam Ovens
Steam ovens are known for keeping food moist (especially leftovers), allowing for healthier cooking (better retention of vitamins and minerals, less use of oils and fats) and enhancing flavor and texture (particularly with vegetables). They don't come cheap but are well worth the investment for food enthusiasts.
5) Induction Cooktops and Ranges
Induction cooktops and ranges cook fast and lose less heat in the process. There's also a safety advantage: As Consumer Reports notes about the stovetops, "If you turn on an induction element by mistake with no pot on it, the element won't get hot, and when you remove a pot from an element the heating stops." Keep in mind that pots and pans won't work on cooktops unless they have the proper magnetic material at the bottom.
Contact Custom today to learn more about installing kitchen appliances in your remodeling project.