Homeowners buying new kitchen or bathroom countertops have more options to choose from than ever before. To learn about the latest trends, we spoke with Pierre Rancourt, president of Stone Surfaces in Woburn.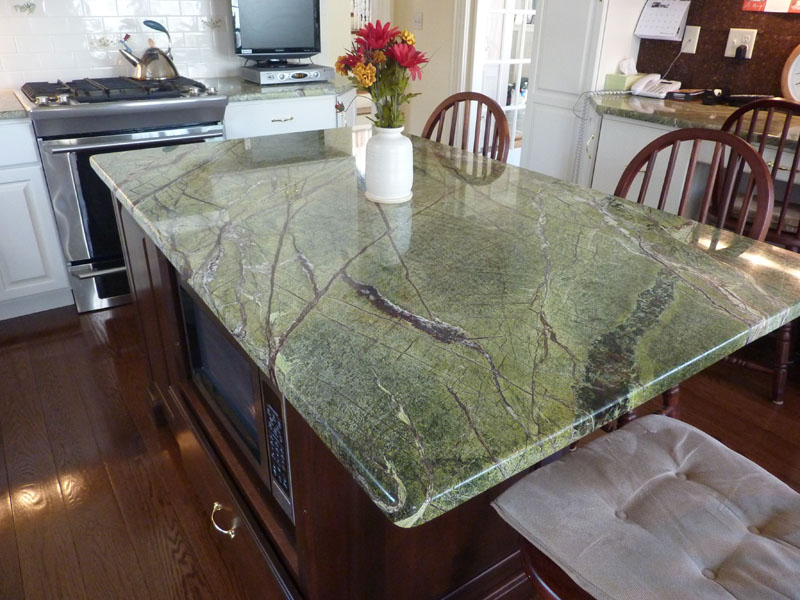 Natural Stone
Granite is perhaps the first stone that comes to mind in this category. Its durability, variety of colors and wide range of price points have long made it a popular choice for kitchens, bathrooms and more. Pierre reports that Stone Surfaces is still doing plenty of granite in kitchens, along with natural quartzite and engineered stone.
Natural quartzite, according to the Stone Surfaces website, "is formed from sandstone and quartz together under a great deal of heat and pressure. The empty grains of sandstone are filled with quartz. This process makes quartzite harder than quartz." Quartzite has the appealing look of marble, Pierre says, "but it's harder than marble — closer to a granite." For that reason, this stone is generally more expensive than marble.
Marble is beloved for its elegant, polished look, but it's also relatively soft. That generally makes it a better fit for the bathroom than the kitchen, where counters take more of a beating. Another issue for some homeowners is that marble develops a patina (aged appearance) over time. "If you don't like that, then you should definitely stay away from marble," Pierre advises.
Soapstone is also a soft stone and has had a steady market over the years, Pierre says. It should be treated with mineral oil every few months for sealing purposes. "The nice thing," he notes, "is that you can take a piece of sandpaper and buff out a scratch on your own."
Engineered Stone
Engineered stone comes in a variety of colors and finishes and contains approximately 90% quartz and 10% resins. "We've seen a definite uptick in engineered stone over the past year or so," Pierre says. "I think it's because people see it a lot on HGTV and other home shows."
A big part of the appeal with engineered stone is the maintenance, or lack thereof. Natural stone should be sealed once a year. In contrast, engineered stone has built-in sealer, so no maintenance is required.
Pierre gives granite a slight edge over engineered stone in terms of resistance to heat and scratches. Price-wise, he says, "engineered stone generally starts in the mid-range of the granites and goes up from there."
Green Products
Stone Surfaces sells products that contain recycled glass and are manufactured using environmentally-friendly methods. (Other green products include wood- and paper-based countertops.) From Pierre's perspective, though, these haven't really caught on.
"When these products first started coming out seven or eight years ago, there was a lot of interest. Now, not so much," he says. "They were quite expensive at first, and that turned people off. The prices have since come down a bit, but they're still on the higher end of the price range. And performance-wise, they're not as durable as granite or engineered stone."