When it came to their recent remodeling project, Lexington's Ian Wall and Julia Weng went big. The work spanned their kitchen, family room, living room, mudroom, former sunroom, master bedroom and more.
And in the end, it was all worth it. "I really like the final product," Ian says. "It feels like the house we wanted. We achieved what we set out to do."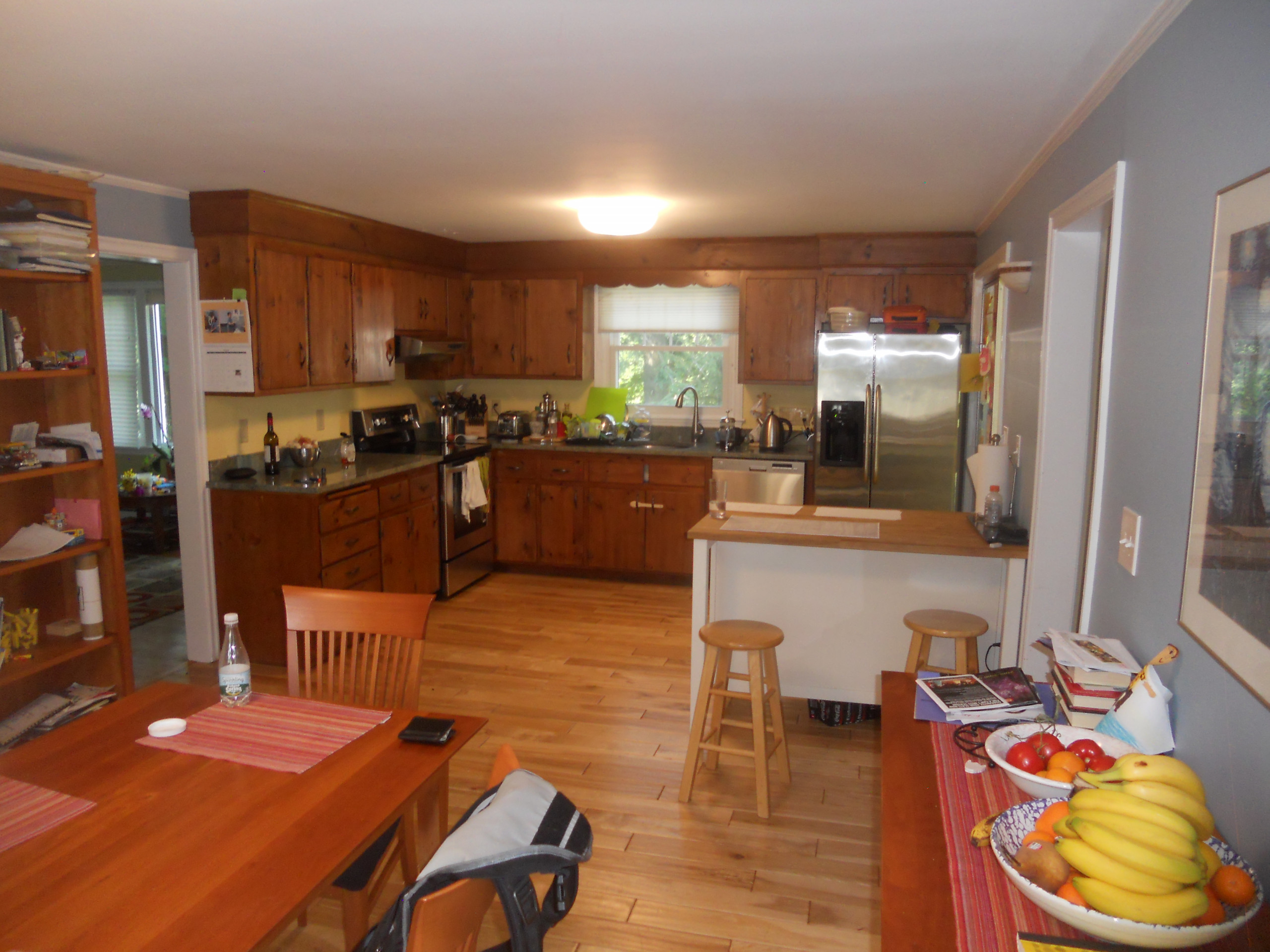 Ian and Julia live with their two kids in a central-entrance colonial built in the early 1970s. Previously, they resided in Arlington, where they spotted a lot of Custom Contracting signs on lawns. After seeing a renovation we completed for friends of theirs, they were intrigued by the possibility of working with us.
Knowing What to Target
Having been in the home for about six years, Ian and Julia had a clear sense of what problems they wanted to address. The kitchen layout just didn't work. The side entry opened into a space that was too narrow and dark. Some of the rooms needed to be integrated to reflect how the family lives.
Custom general manager Scott Blain helped Ian and Julia flesh out their ideas. "Right away, we got the sense that he deeply knew what he was doing," Ian says. "He was professional, collaborative and very thoughtful about what ideas would or wouldn't work — or would simply be too expensive."
Given the extent of work required in the kitchen, Custom designer Nikki DeFelice was also heavily involved in the planning process.
"Julia and I had a pretty good idea of what we wanted the kitchen to look like," Ian says. "Nikki helped us refine it and bring things together in terms of design, coloring and details like drawers and inserts."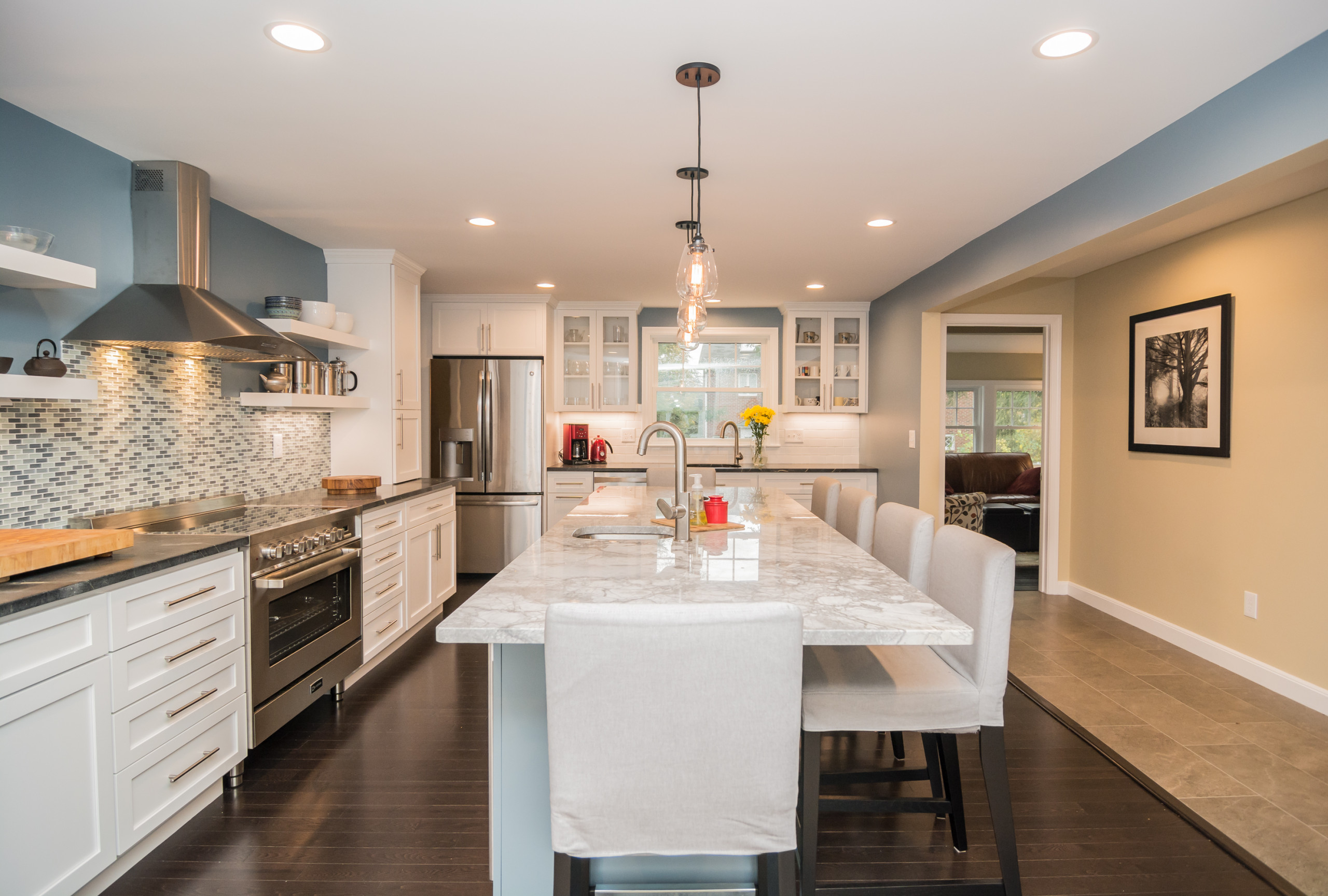 A Major Undertaking
Work on the first floor included gutting and reconstructing the kitchen; replacing a back sunroom with an office/den; building a mudroom and half bath; installing a mantle, a stone hearth and cabinetry in the family room; and more.
On the second floor, we constructed a master bath suite and walk-in closet. Exterior work included removing the open sundeck in the backyard and constructing a new one as well as building a front entry landing and garage entry door.
Ian credits lead carpenter Dave Surrette for his steady leadership throughout the project.
"Dave is awesome — totally unflappable and super considerate. You can tell how much pride he takes in his work," Ian says. "He completely redid our living room hearth, hand building a cherry mantle to be integrated with some cherry cabinets we had. It looks like it's always been there, and it's now central to the room."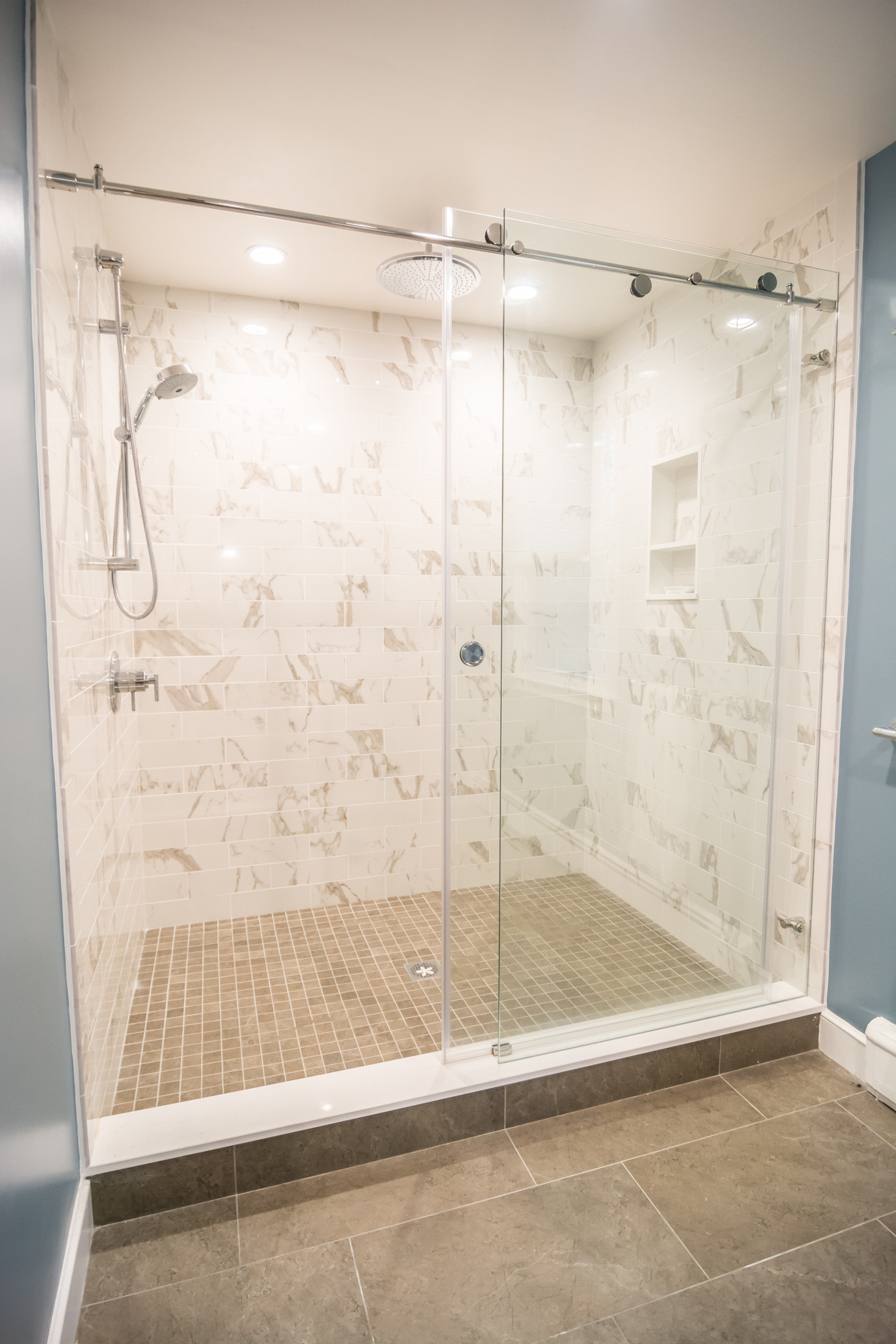 Making the Job Right
As to his favorite aspect of the project, Ian has a hard time picking just one. He spends a lot of time in the office/den, especially when he's working at home. But the new kitchen has probably had the biggest impact overall.
"That's the showpiece for the house, and the open layout has made a huge difference," he says. "We put in a large island that gives us plenty of room to prep meals even while people are sitting there. There's also a long run of counters on either side of the stove, so we've got a lot more storage."
In addition to the quality of the work, Ian has high praise for the quality of the people who were involved in the renovation. "Custom does a great job paying attention to the craftsmanship but also to the customer relationship management part of it," he says. "Everyone I dealt with, including the subcontractors, was focused on doing whatever they could to make the job right. They left nothing undone."
---