It's always nice when one of our clients takes the time to share some kind words about Custom Contracting. So we were pleased to come across this five-star review on Houzz.com from Arlington's Heather Cooke:
"The space is gorgeous and we couldn't be more pleased," the review concludes. "We would definitely work with Custom Contracting again."
Heather and husband Brian Steinberg's project, which wrapped up last fall, involved a complete gut of the kitchen along with minor remodeling in other rooms.
Revamping the Kitchen
Heather and Brian's home was built in 1938 and had an addition put on in 1981. They bought the house in 2012 knowing the kitchen was going to need some major work. The entrance into the basement jutted out too far into the room, which made it impossible to have an island. Counter space was at a minimum, while the cabinets, appliances and floor were all in rough shape. Overall, it just didn't function well or look good.
The couple researched and met with several contractors. Only Custom offered a solution that would push back the basement door and accommodate the addition of an island.
"The fact that [general manager] Scott Blain saw that and no one else did is the big reason we decided to go with Custom," Heather says.
Heather and Brian had a pretty good feel for what the kitchen should look like, but they also got some assistance from Jodi Swartz, a designer whom we brought on for the project. She was instrumental in designing the professional range hood to make sure it met Arlington code.
"Jodi also spent a lot of time designing a custom cabinet that houses our small appliances," Heather adds. "The doors open and then slide in and out of the way. It's really nice."
As for the island, it features a custom walnut wood countertop as well as seating for four. "The island is fantastic," Heather says. "I could be there making a complicated meal, and no one gets in the way. In the old kitchen, we didn't have that kind of space. It's changed how we entertain, too."
For his part, Brian's especially fond of the pot filler and specialty plumbing that make it much easier for him to pursue his passion of brewing homemade beer.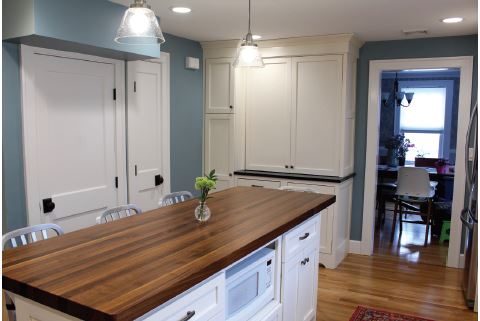 'We Loved Working with Dave'
While most of our work centered on the kitchen, we also redid the trim and flooring in the family room, mudroom and powder room. Those rooms were all part of the addition from 1981, and we were able to more closely match their look to that of the original home. Heather credits lead carpenter Dave Surrette for that touch.
"He spent extra time picking out the trim and did a great job finding the right match," Heather says. "We loved working with Dave. He's very patient and fun to be around, and he really pays attention to the details. A good listener, too."
Now that Heather and Brian have had a few months to enjoy their remodeled home, they're thrilled with the outcome.
"You know how sometimes you buy something and you think it will make your life better, but it doesn't? This isn't that way at all," Heather laughs. "I'm really glad we did it."
For more, full color photos of this remodel, check out our Client Spotlights!