At Custom Contracting, we work hard to incorporate the latest advances in the field so we can deliver greater value to homeowners. A case in point is our adoption of screw pile footings in certain projects.
Screw piles are an alternative to traditional concrete footings or foundations. The website of our vendor of choice, GoliathTech, describes the product as such: "Resembling a large screw, screw piles are installed deep into the ground, beneath the ground freezing level, to solidly support the structure of your project."
While not yet widely known among homeowners, this technology has actually been around for about 120 years. According to Jeff O'Rourke, president of GoliathTech New England, it was developed by a blind Irish architect to anchor lighthouses on the Irish coast so they wouldn't get washed away.
Eight decades ago, screw piles began making inroads in Canada. The deep layer of frost there can make it difficult to dig a six- or seven-foot hole to put in a porch pillar or foundation. Screw piles can be installed with relative ease to reach below the ground freezing zone.
Today, screw piles meet all codes for North America and are being approved for use in more and more Massachusetts communities.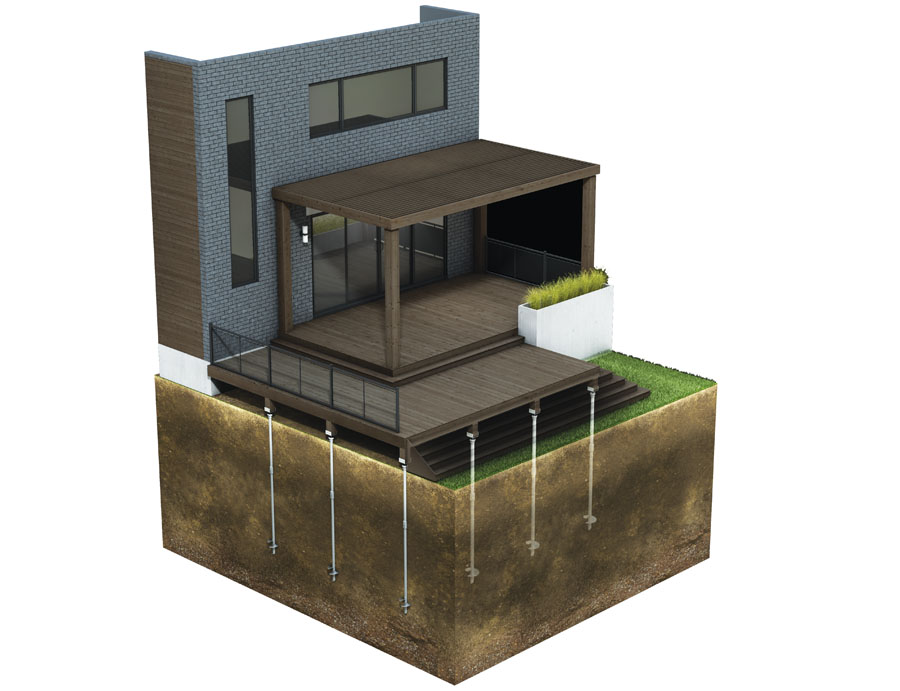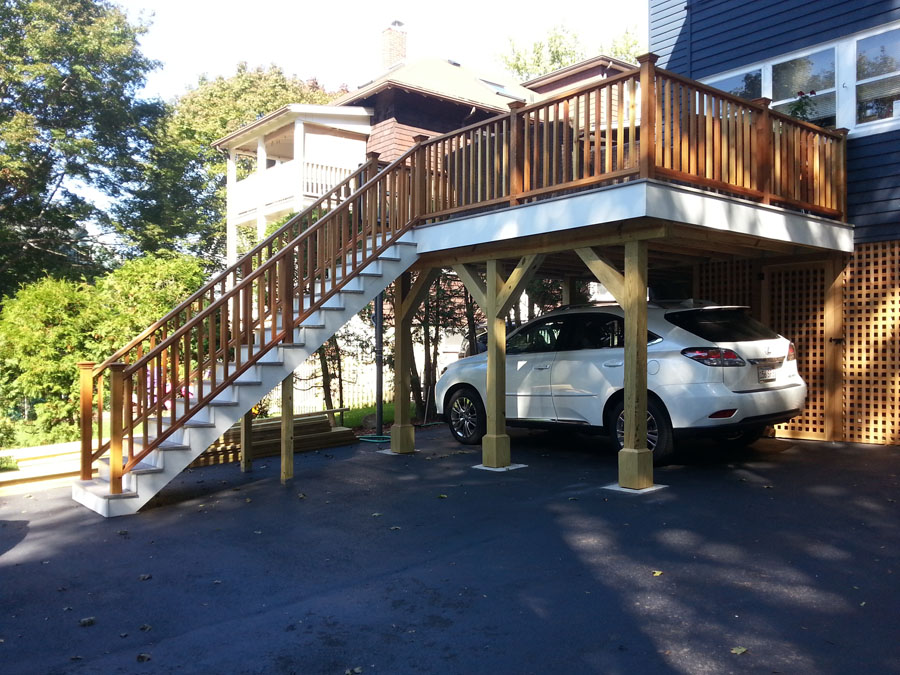 Moving into Residential
With manufacturers such as GoliathTech reducing the price point, screw pile footings are gaining traction in residential construction. O'Rourke estimates that decks and porches represent about half of the business for his 30 franchises, while large homes and beach houses are responsible for about 25%. Commercial work, primarily for telecommunications and solar companies, comprises the remainder.
A huge advantage of screw piles is the lack of fuss involved in installation. "Take beach houses," O'Rourke says. "Before, they'd take a large telephone pole and beat it into the ground with a huge crane. It would disrupt all the houses in the area — the foundations would crack, the windows wouldn't work. We've eliminated all that."
Instead, companies like GoliathTech use compact equipment to get to the site and do the installation. That's what happened in the Barmak project (see Client Spotlight). Given the slope of the lot, it would have been impossible to get large equipment into the backyard to put in the footings for the back deck. The smaller equipment also reduces damage to the landscape.
O'Rourke adds that a screw pile system can be much less expensive that traditional methods. He cites the example of a small addition, where using screw piles eliminates the need to dig a full foundation, excavate the dirt and pour the concrete. That produces a huge advantage in terms of price as well as speed. "We could probably come in and get the job done in about two hours," he says.
If you'd like to learn more about screw pile footings, we encourage you to visit www.goliathtechpiles.com or call Custom.
Custom Contracting, Inc.
1267A Massachusetts Ave.
Arlington, MA 02476
Phone: 781-648-2835
Fax: 781-648-0907
Email: cci@custom-contracting.com