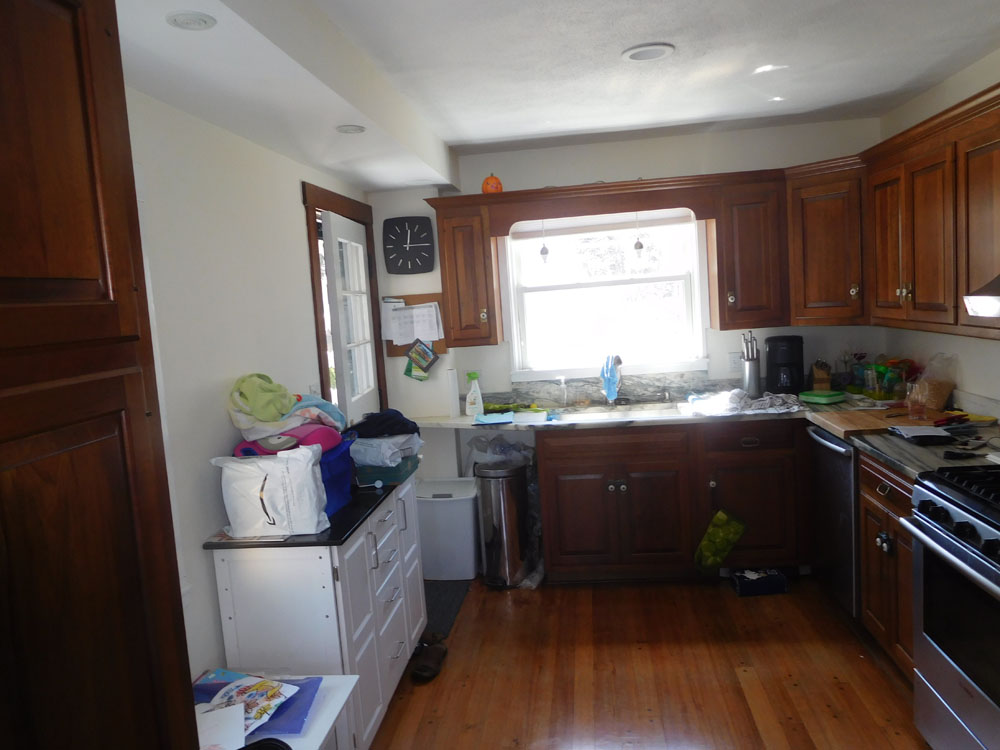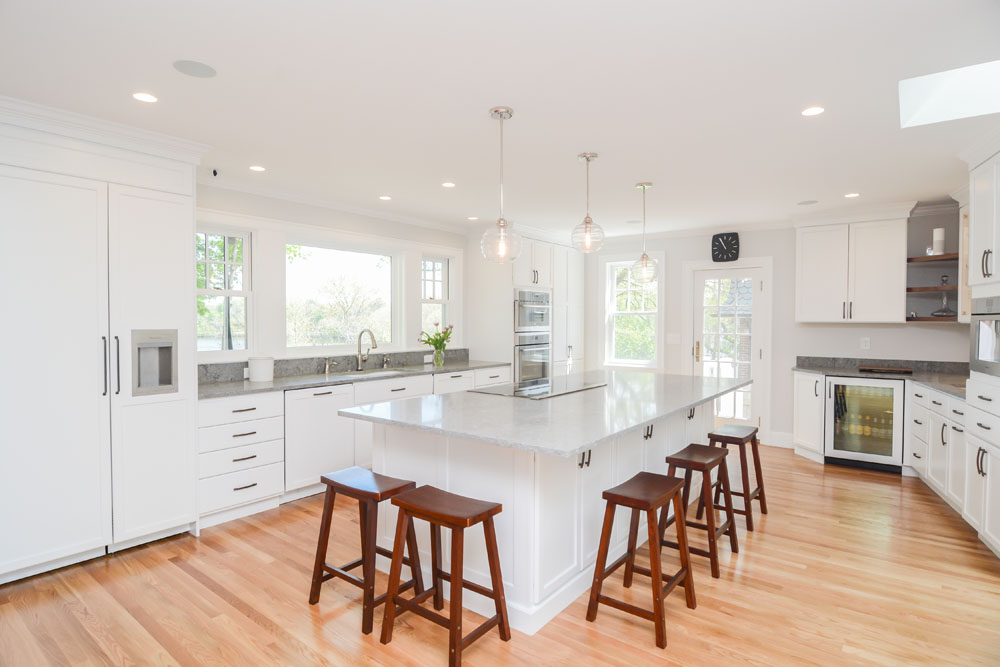 You know the old saying, "There are three things that matter in real estate: location, location, location." And for Arlington's Sally Royce and Craig Hunter, location certainly did matter.
Their 1922 colonial sits on a corner lot with an expansive view of lower Mystic Lake. It's a quiet spot; in fact, a large cemetery abuts one side of their property.
When they purchased their house in 2015, Sally and Craig knew that some remodeling work would be in their future. The kitchen was a bit small and didn't have a great layout. They also wanted to make a comfortable space to host family members from their native Britain, often for weeks at a time.
Fast forward to 2018. Sally and Craig had two young children and a third on the way. The time had come to explore a renovation. But the process didn't begin with Custom.
A False Start
Sally and Craig initially worked with an architect, structural engineer and another general contractor. The plans and structural drawings had various problems, so the couple decided to go in another direction.
Upon reopening the search for a general contractor, it became clear that the scope of the project — which would eventually include a 14′ x 28′ kitchen/mudroom addition and a major basement renovation — was too much for some of the prospective firms to handle.
"Most of them didn't want to take on that level of complexity — the logistics, having to get excavators through a very tight area," Sally says. "Custom was the only one that wanted to step up to that challenge. [General manager] Scott Blain was excited about that. His confidence made us want to work with Custom."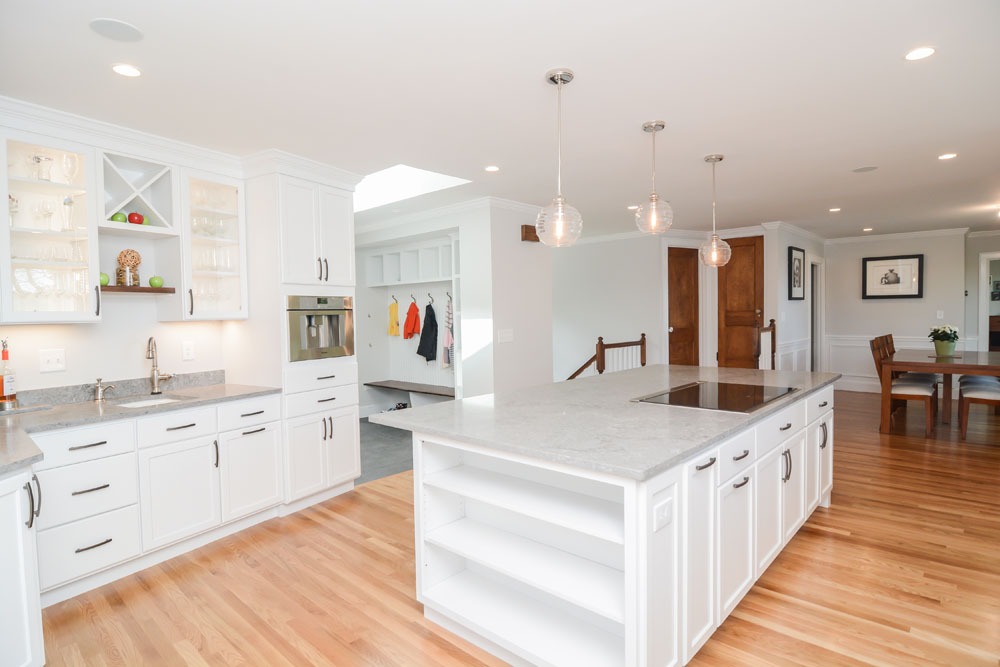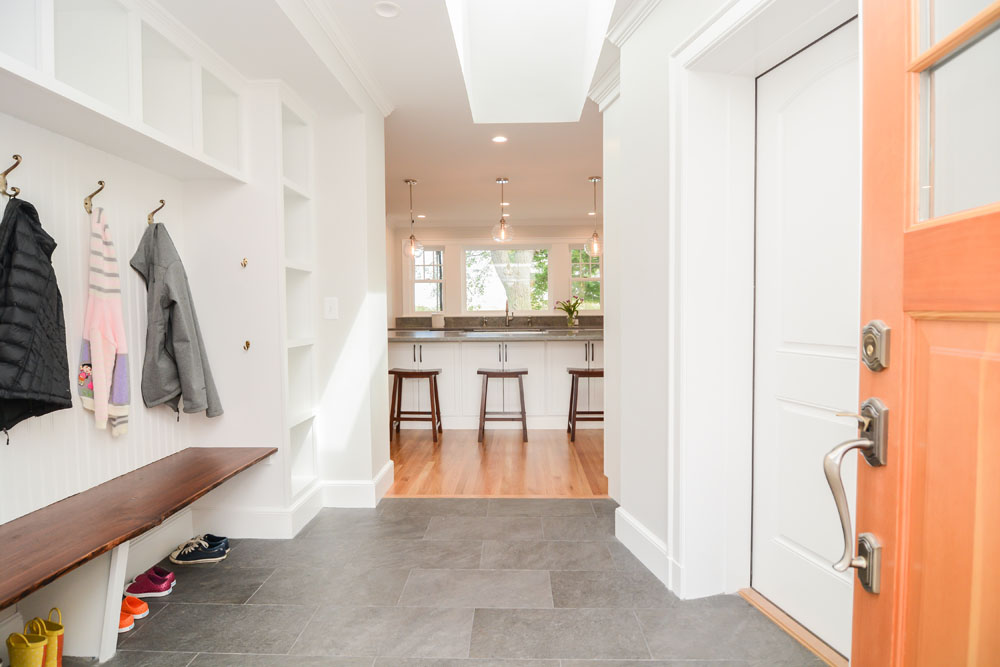 On His Game
By the time the project started in August 2018, Sally was six months pregnant. (The baby would arrive in December, about halfway through the project.) The family planned to move out during the roughly six weeks of demolition but would otherwise be staying put. So while sticking to a schedule and ensuring clients are comfortable during a project are always priorities for us, they took on increased urgency in this case.
"The lead carpenter, Bryan, was completely in control," Sally says. "He did a detailed calendar, and we had daily conversations with him about how things were progressing."
"Bryan was really on his game as a project manager, coordinating a large production team and ensuring we stayed on schedule," Scott adds.
In the Center of the Action
The new "open concept" kitchen/dining room space, which offers a gorgeous view of the Mystic and features ample natural light, has changed the way the family lives.
"The island is now the focal point of the house; it's where we eat, where the kids color," Sally says. "The kitchen has become the center of the home."
The mudroom — a godsend for any family with three kids — has plenty of space for the growing collection of jackets and shoes. Meanwhile, a double winding stairway descending to the basement seamlessly blends the main and lower levels of the house.
Downstairs, the basement has been completely transformed into livable space with a family room, guest suite, bathroom and new laundry room. It's the perfect solution for hosting those visitors from abroad.
"And when the kids get older, it will be a teenage hangout space," Sally notes.
Better yet, she and Craig know they can continue to enjoy their fantastic location in a home where they can raise their three children.